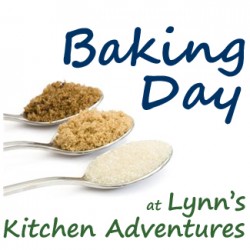 If you have read my site for long you know that I love to bake. I find it relaxing and fun. I know that might sound strange to those of you that find baking stressful, but on a bad or stressful day you will often find me in the kitchen making a cake or a batch of cookies.
Over the last year with all of our food issues baking has become a bit more challenging, but I still love to bake.
I have really enjoyed having my allergy site as way to share my gluten free and nut free alternatives to our family's favorite baked goods without overwhelming this site with food allergy information. I am also very grateful for all the gluten free readers I have gained on both sites over the last year.
But although I know that my gluten free readership is growing, I also know that the majority of my readers are not gluten free and do not deal with food allergies. They can still make and eat the foods I cannot have and I am fine with that. The wide range of readers that I have is what helps make this site what it is.
I also know that I still love to bake regular food even though I can not eat it. I continue to make desserts and food for those in my family that do not have to eat gluten free. I also often make desserts to send to work with my husband. I am still baking quite a bit of regular food even though I can not eat it.
The concept of a baking day is one that I have been thinking about for awhile. In fact the concept of a Baking Day was one I thought of long before I was gluten free and I have thought a lot about what I want Baking Day to be.
So, what is Baking Day?
Baking Day is going to be a lot of things, but it will always have to do with baked goods and it will always be on Friday.
I plan to post baked goods that I am making. For my gluten free readers I will often post the gluten free version on my allergy site. My post tomorrow for Caramel Apple Cake is an example of that. I have a version I will post here and a gluten free version that I will post on my allergy site.
Baking Day will also be a place where I share my tips for baking. I have done some of this in my cooking baking series, but I plan to start posting baking specific tips on baking day.
It will also be a day where I highlight some of the recipes already on my site. This will be similar to what I did last week for apples.
During the holidays I hope to do a few link ups on Baking Day so that you can share your favorite holiday dessert and bread recipes. I know you all have some great ideas and recipes and I think a link up would be a fun way for everyone to get to share them.
Another feature about Baking Day that I am excited about is that my sister Evie is going to be doing a few guest posts for me. She is a great cook and loves to bake almost as much as I do. I can't wait to see what she will be sharing with everyone over the next few months.
So look for Baking Day to start tomorrow with Caramel Apple Cake.
Is there anything I have left out that you would like to see on Baking Day?