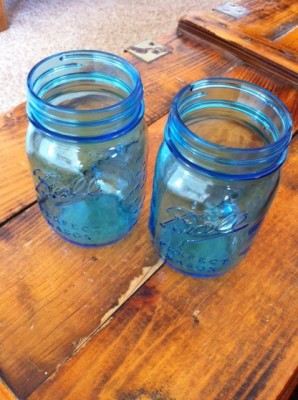 Have you all seen the new Ball Jar Heritage Collection Pint Jars
?! I love these.
I love jars of all kinds. I have mentioned before that I use them for all kinds of things. I love them for canning of course, but they work great for storing and serving as well.
I even have a collection of old jars, including some really old blue glass jars. Some of them even have the glass lids or the old fashioned screw on metal ones. I have quite a few that were my grandmothers, but also some that came from garage and estate sales. Over the years I have found various ways to display them in my house.
My friend Jessica recently posted a picture of a blue jar she was drinking out of and I thought it looked great because I love uses jars for things like that.
Then I was in Target last week and saw these new Ball Jar Heritage Collection Pint Jars on an end display and instantly knew I wanted them. I thought they would be great to use in food photos. Yes, I can use my old blue jars, but since many of them were my grandmother's I don't like to, so I knew these would work well in photos.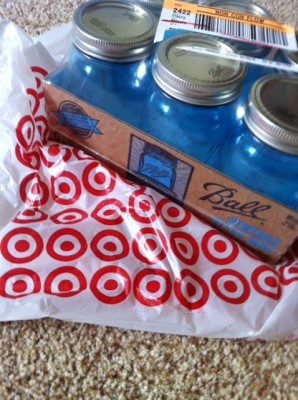 And I will admit that Target is a dangerous place for a food blogger. They have so many cute kitchen and food related things. I really have to be careful when I enter Target. This day though I gave in and bought a package of six jars.
Once I got the jars home and washed them, I knew I would be using these for way more than food photos.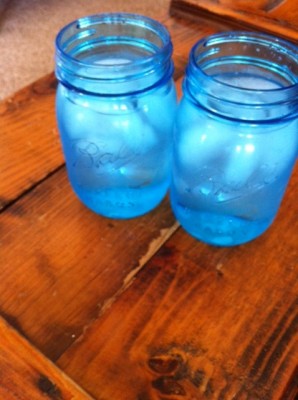 I mean really doesn't that jar full of ice water look so good! Perfect for hot summer day. And I am thinking these jars used as drinking glasses on a table with my Fiestaware dishes would be perfect.
My house and table are far from fancy. I live in the country with three kids, animals, and a lot going on. Fancy does not describe my family at all, so I think I will be going back to Target for some more blue jars to use for drinking glasses.
What is your favorite use for jars?