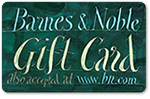 In February of 2010, I started doing cookbook giveaways as a way to thank my readers.
The cookbooks I gave away over the last year have been some of my favorites. I choose cookbooks that I used and loved. They were ones that I thought you would enjoy and love as much as I do.
I hope to continuing this feature over the next year, but because this week marks my third year of blogging, I wanted to do something a little different than just give away a couple of cookbooks. I wanted to giveaway something that would let you choose what cookbooks you added to your collection.
So, I am giving away two $50 gift cards to Barnes and Noble.
Now, really the two winners could choose anything that Barnes and Noble sells, but you can buy several nice cookbooks for $50, which of course is what I would choose to do. 🙂
To Enter to win:
All you have to do is leave me a comment.
For bonus entries: (please leave a separate comment for each bonus entry)
Giveaway will end Monday, March 7th, 2011 at 6 pm cst.
I will choose 2 winners from the comments left on this post.
If you received this post through email, please click through to my site and leave a comment on this post. Replying to your email newsletter will not count as an entry. You must click through to this post and leave a comment.
I am in no way associated with Barnes and Noble. They have no clue who I am. I simply want to share my love of cookbooks with you and help two of you build your cookbook collection.
For any questions please see my giveaway policy.