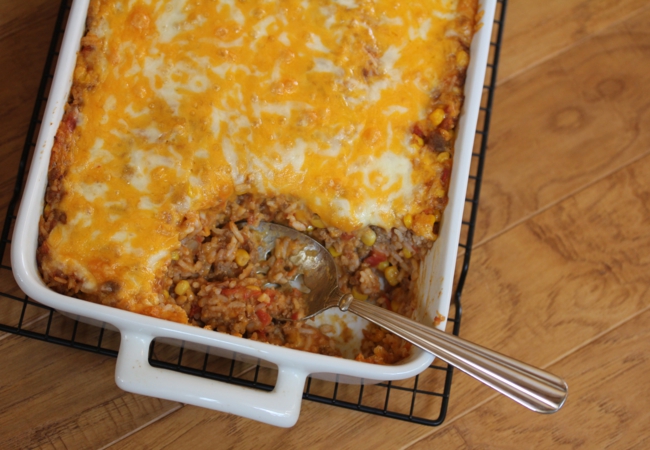 Ground beef is one of my favorite ingredients to cook with because when it comes to meat it is so budget friendly. You can't get much cheaper than ground beef.
One of the other great things about ground beef is that it is easy to stretch. Yes, you can use a few pounds to make hamburgers, but you can also use one pound of hamburger in a casserole and turn it into a whole meal.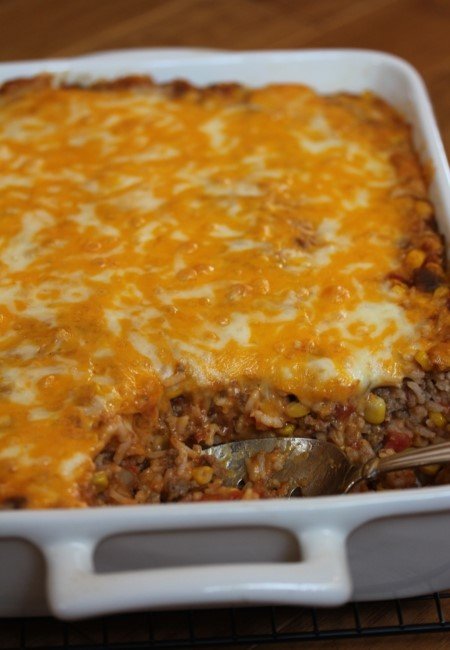 It is also very versatile. You can use it for Mexican foods like tacos. But you can also use it in pasta dishes, soups, chili, and more. Ground beef is one of the most versatile meats you can buy.
A few years ago I did a series on ground beef recipes and those recipes have become some of the most popular recipes on my site. You all seem to love ground beef recipes as much as I do, so I am hoping to start sharing more ground beef recipes over the next few months.
Today's recipe for beef enchilada rice casserole uses ground beef. It is actually inspired by a recipe my sister told me about for enchilada rice casserole that she made with chicken. I make a skillet enchilada rice that my family loves, so I knew they would love a baked enchilada casserole like my sister made.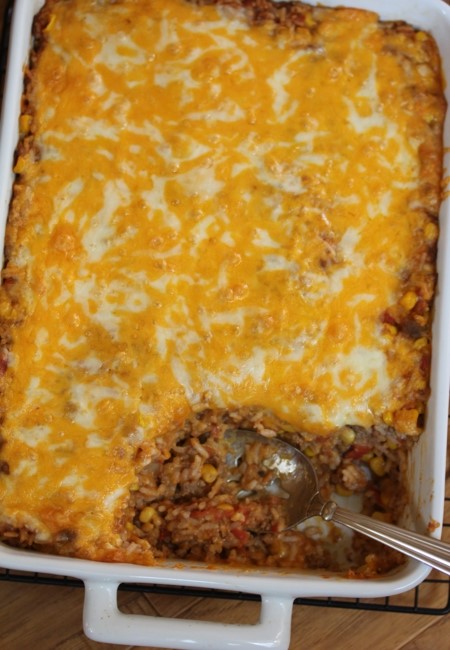 But because I can't follow a recipe, I totally changed what my sister told me she did. I did not have any chicken on hand, but I had quite a bit of ground beef in the freezer. I also knew my family would prefer a ground beef version over a chicken one.
I also added canned tomatoes and of course more cheese. I tweaked a few other things too. So basically it was inspired by my sister's version, but I totally did my own thing.
If you need a new quick and easy dinner idea I think you will enjoy this one!
Beef Enchilada Rice Casserole
1 pound ground beef
4-5 cups cooked rice
1- 1o ounce can enchilada sauce or homemade enchilada sauce
1- 14 ounce can diced tomatoes
1 can refried beans
1- 15 ounce can of corn, drained (You could also use frozen corn)
3 cups shredded colby jack cheese
Preheat oven to 350.
In a skillet cook ground beef until browned and done. Drain off any fat.
In a large bowl combine cooked ground beef, cooked rice, enchilada sauce, tomatoes, refried beans, drained corn, and 1 1/2 cups cheese.
Stir well to combine.
Spread into a 9×13 pan or similar sized casserole dish.
Spread remaining cheese on top.
Bake for 30 minutes or until heated through.