I asked my friend Faith to guest post today. Last year she made a birthday cake that I thought was a very creative idea, so I thought I would have her share it with you today. Faith has a great craft blog. She is way more creative and talented than I am when it comes to crafting. She has many ideas, especially for crafting with kids. You can check her blog out at Faith Of All Crafts.
I hope you enjoy her post.
Wow! What an honor to get to guest for Lynn.
My children are very excited about birthdays. As soon as one person's birthday is over, they begin planning the next one. My husband's birthday comes after mine. Last year, after my birthday, my 6 yr old asked, "What kind of cake do you want for your birthday, Daddy?" My husband (not caring very much about cake) replied, "The kind that is a bun, with barbecue between." So, that is what he got.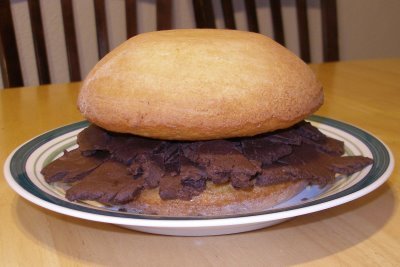 Birthday Cake Idea
1 bag dark chocolate candy melts
1/3 cup corn syrup
One vanilla cake recipe of your choice
For the cake, I just made a vanilla cake recipe and divided it into two of my mixing bowls. That will form the rounded top of the bun. For the bottom bun, I cut the rounded part off of one of the cakes. I did not frost the cakes, partly because it would have been hard to make bun-colored frosting, and partly because my husband isn't really a huge fan of frosting.
For the barbecue, melt the candy melts & syrup in a double boiler. Pour warm (not hot) chocolate onto waxed paper & let cool. I used a pizza cutter to make the brisket "strips".
Place the bottom bun on your cake plate (I used a regular plate since it was supposed to be a sandwich). Layer the chocolate strips on the bun. The chocolate will be pliable, so be careful not to tear it. I arranged mine so that the jagged edges were facing out. Place the rounded bun on top & you're finished.