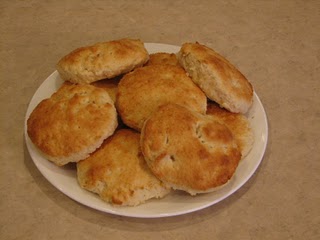 One day last week I needed a bread item to go with our dinner. I did not have a lot of time to make something. I also had some heavy cream that was several days pasted the expiration date that I needed to use. I had remembered seeing a recipe for biscuits made with cream instead of butter. I decided to give it a try. I found the recipe in the cookbook "America's Test Kitchen Family Cookbook".
Biscuits are not my speciality. I have decided that it must take years of practice to be really good at biscuits. It seems like my grandmother and my husband's grandmother just threw in a little flour, a little butter or lard, add some liquid and they had beautiful biscuits. Well, I guess I have not developed the talent to do that. I still follow a recipe. And although I have a couple of biscuit recipes I like, I am still looking for that perfect biscuit.
This recipe was really good. It was quick and easy. Heavy cream is not something I keep on hand though so I do not know how much I will make them. It was a good way though to use up cream that was going bad.
Cream Biscuits
2 cups flour
2 teaspoons sugar
2 teaspoons baking powder
1/2 teaspoon salt
1 1/2 cups heavy cream
Preheat oven to 450 degrees. Whisk the flour, sugar, baking powder, and salt together in a large bowl. Stir in cream until a dough forms. Turn out onto a lightly floured surface. Knead dough a few times. Pat the dough into a circle about 3/4 inch thick. Cut into 2 1/2 inch circles using a biscuit cutter. You can also cut into wedges with a knife. Place on baking sheet and bake for 13 to 15 minutes or until golden brown. Enjoy!