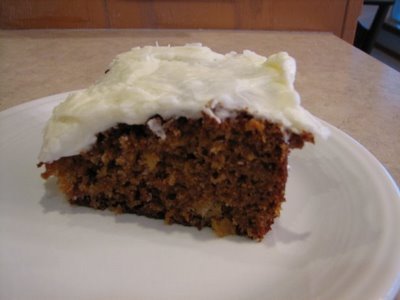 Over the last six months I have been adapting many of my recipes using whole wheat. This has been working well, but I have also been looking for recipes that call for whole wheat. I have found quite a few really good recipes from King Arthur and Bob's Red Mill.
I find that these recipes work well because they are written specifically for whole wheat. Whole wheat doesn't always do well just substituted into a recipe. Sometimes you need to adjust the other ingredients to get a good result. You may need to adjust the eggs, oil, or other ingredients. Using recipes written for whole wheat flour takes the guess work out of it. They have figured out what works.
This recipe for carrot cake is an example of that. I had tried making carrot cakes using whole wheat before. I was able to get good results using 1/2 whole wheat and 1/2 all purpose flour, but I was never able to get good results using 100% whole wheat. That was until I tried this recipe. When I first saw it I was skeptical, but thought maybe a recipe from Bob's Red Mill would actually work. And it did. It is really good.
My whole family liked this. I double it and use a 9×13 pan and add about five minutes onto the cooking time. I hope you enjoy it too.

Bob's Red Mill Whole Wheat Carrot Cake
1/2 cup Brown Sugar
1/2 cup White Sugar
1/2 cup Canola Oil
2 Eggs
1/2 tsp. Salt
1 tsp. Cinnamon
1 cup Whole Wheat Pastry Flour ( I have used regular whole wheat it is just a little heavier)
1 cup Carrot, grated
1/4 cup Walnuts, chopped ( I left these out, but you could also use pecans)
3/4 tsp. Baking Soda
1 tsp. Baking Powder
8 oz. Pineapple, crushed and drained
Mix together sugars, oil, eggs, salt and cinnamon. Add in the rest of the ingredients. Pour into a greased 9″x9″ pan and bake at 350°F until toothpick comes out clean (about 40 minutes).
I frost this with my cream cheese frosting that I use on my banana cake, but I usually 1/2 the recipe to make the cake a little healthier.