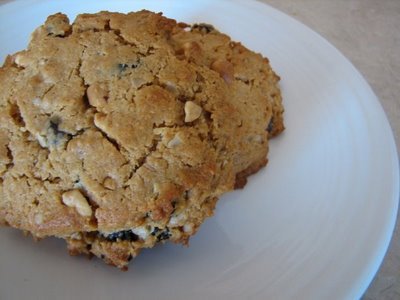 I finally have a post that is healthy, really healthy. Can you believe it? This recipe is so healthy that I hesitate to call it a cookie. It really does not taste cookie like. But I could not come up with a better name. My husband called them nutri cookies. But please don't expect these to be a regular cookie.
If you want/need a chocolate or sugar fix these are not what you are looking for. But if you are needing a treat for breakfast or wanting a quick grab and go breakfast this recipe will work great. This reminds me of a cookie I ate at Bob's Red Mill store in OR. This is definitely a cookie like you would find at a health food store.
I am not a breakfast person, I have said this before. My normal breakfast is to grab a banana or a granola bar about 10:00. In our journey towards eating healthier I am trying to find an alternative to granola bars. I want something that my kids can eat for breakfast, but also something that I can grab instead of a granola bar. I want something easy like a granola bar, but healthier and more frugal.
I have tried several breakfast cookies or bars. None have been very good. In fact the last ones I made my husband made me throw in the trash. He said they were terrible and he would not eat them. The recipe was rated well by others, but it did not work for us.
I decided I should just do some tweaking to come up with my own version. This recipe is a combination of several recipes and I think it is really good. I have been eating them for breakfast and also for an afternoon snack. My kids even liked them. They ate them for breakfast with yogurt, and my husband says they are quite good for breakfast.
There are two ingredients in these though that I think really help the texture. One is the chunky peanut butter. I like the crunch it gives it. The other one is the crispy rice cereal. This is the unhealthy part of the cookie, but this also gives it a better texture.
Breakfast Cookies
1 cup crunchy peanut butter
3/4 cup honey
1/2 cup oil
1 teaspoon vanilla
2 eggs
2 cups whole wheat flour
1/2 cup quick cooking oatmeal
1 teaspoon baking powder
1 teaspoon baking soda
1/4 teaspoon salt
1 cup crispy rice cereal
1 cup raisins
Preheat oven to 350 degrees. Mix together peanut butter, honey, oil, vanilla, and eggs. Mix well. Mix in flour, oats, baking powder, soda, and salt. Stir in cereal and raisins.
On a greased baking sheet place rounded tablespoons of cookie dough. Flatten slightly and bake for 12 minutes. You do not want to over bake these. Store in an airtight container.
For more frugal ideas and recipes see
Frugal Friday
and
Grocery Cart Challenge
.