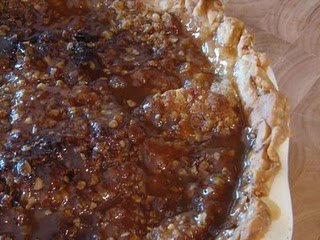 Life as mom is having a recipe swap. The theme is pie. This is perfect timing. Last week I made my favorite apple pie, and I was planning on posting it.
It is a caramel apple pie. It is so good. I try to make this once a year in the fall. I recently went to the orchard for apples so it was a perfect time to make it. I hope you enjoy.
Crunchy Caramel Apple Pie
Adapted from Emeril's Apple Pie Contest winner, 2001
1 pastry crust for a deep-dish pie 9-inch (homemade or store-bought)
1/2 cup sugar
3 tbsp. all-purpose flour
1 tsp. ground cinnamon
1/8 tsp salt
6 cups thinly-sliced peeled apples ( I used Jonathans. I think baking type apples work best)
1 recipe crumb topping (see below)
1/3 cup caramel topping
Ingredients for crumb topping:
1 cup packed brown sugar
1/2 cup all-purpose flour
1/2 cup quick cooking rolled oats
1/2 cup butter
Directions for Crumb Topping:
Stir together brown sugar, flour and rolled oats.
Cut in 1/2 cup butter until topping is like course crumbs. Set aside.
Directions:
In a large mixing bowl, stir together the sugar, flour, cinnamon and salt.
Add apple slices and gently toss until coated.
Transfer apple mixture to the pie shell.
Sprinkle crumb topping over apple mixture.
Cover edges of pie with aluminum foil.
Bake in a preheated 375°F oven for 25 minutes. Then remove foil and put back in for another 25 to 30 minutes without foil.
Remove from oven. Drizzle with caramel on top.
Cool on a wire rack and enjoy warm or at room temperature.