Giveaway over the winner is Barbara- I only use butter for baking because it gives superior results.
I am a butter snob, oh yes I am. In my opinion butter is better. Better for baking, both in taste and in results, and better for spreading on toast and muffins.
Because I love butter so much, and I know many of you love butter, I was excited when Challenge Butter contacted me about working with them on getting the word out about their Celebrity Chef Challenge.
Celebrity Chefs Gale Gand, Jon Ashton, and Avery Pursell have created three exclusive holiday recipes for Challenge Butter and chosen 3 charities to receive $10,000! Vote for your favorite recipe to help to donate to charities and also be entered to WIN some fun prizes.
All three celebrity chef recipes look good, but I think Gale Gand's Coconut Pecan Butter Crunch Cookies look so good. I love her recipes. I used to watch her all the time on the Food Network. If you love to bake she has some great recipes and cookbooks.
And if you are looking for some new recipes using butter, be sure to check out the recipes on the Challenge Butter website. I think I am going to have to try the Balsamic and Herb Roasted Potatoes.
Now for the giveaway.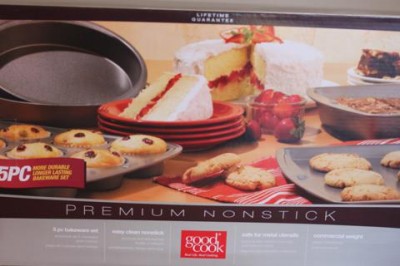 Thanks to Challenge Butter and Good Cook, one of you will win 5 coupons for free Challenge Butter and a 5 piece bake ware set.
To enter all you have to do is leave me a comment.
Note: I received coupons for free product and a set a bake ware for my time, but my thoughts and opinions are my own.