My sister Evie recently informed me that I needed more chicken recipes on my site. I thought I had plenty of chicken recipes, but after looking around at my recipes for a while, I realized that she was right, I do not have very many recipes containing chicken.
I guess that is the problem with having a freezer full of beef, pork, and deer meat. We have so much other meat, that chicken is a treat for my family. I buy it once in a while when I find it for a really good price, but we really do not eat much of it.
So, I told Evie that I would love for her to share a few of her favorite chicken recipes and she agreed. Today, she is sharing a recipe that she recently came up with and I think it sounds really good. Thank you Evie!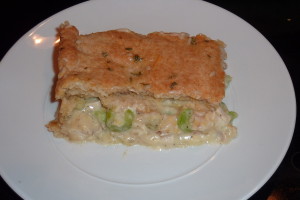 Recently, I had a few vegetables and some cooked chicken that needed to be used up. Usually I would have just made chicken pot pie, but I didn't feel like having that for dinner. Have you ever had one of those moments? You have all of the ingredients for a dish and just don't feel like eating it?
Going with a similar idea as chicken pot pie, I decided to throw together my own filling and top it with a biscuit crust instead of pie crust. I have used a can of cream of celery soup, but I'm sure you could use cream of chicken or mushroom.
If you are opposed to using a can of cream soup, I put a chicken broth, butter, and flour alteration that I've also used at the bottom.
Chicken Vegetable Bake
Filling:
1 can condensed cream of celery soup (**or chicken broth/flour, see note at bottom)
1 c. light sour cream
1 tsp. ground pepper
1 tsp. parsley
¼ c. minced onion
1 glove garlic, smashed
½ c. diced carrot
½ c. diced celery
½ c. frozen peas
½ c. frozen corn
2 c. diced broccoli florets
2 c. diced cooked chicken
Preheat oven to 375.
Stir together condensed soup, sour cream, and pepper.
Add remaining ingredients. Stir until combined.
Pour into a lightly greased 9×13 pan.
Biscuit Topping:
1 ¾ c. flour
1 tablespoon, plus 2 tsp. baking powder
2 ½ tsp. sugar
¼ tsp. salt
3 TB vegetable shortening, at room temperature
4 TB unsalted butter, cold and cut into ½ inch pieces
1 ¼ c. grated cheddar cheese
2/3 c. buttermilk
In a food processor, pulse together flour, baking powder, sugar and salt.
Add shortening and pulse until combined
Add butter and pulse 5-7 times, until butter is pea-sized
Add cheese, pulse until combined
Pour in milk and pulse until just combined
Place on a lightly floured surface and knead gently until dough comes together. Do not overwork the dough.
Roll dough into a 9×13 rectangle and place in pan over filling.
Garlic Butter:
1 TB unsalted butter, melted
1 clove garlic, smashed
1 tsp. fresh parsley, chopped
In a small bowl, combine ingredients and stir until combined.
Brush over topping.
Place in oven and bake for 40-45 minutes, or until topping is golden and cooked through.
**Cream soup alteration: in a saucepan, melt 3 tablespoons butter. Whisk in 3 tablespoons flour. Gradually whisk in 2 cups chicken broth. Over medium heat and stirring frequently, bring sauce to a boil. Cook and stir until thickened, about 4 minutes. Proceed with recipe as above.