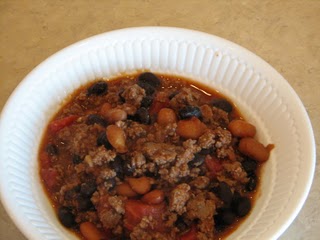 Monday night for dinner I made cornbread and chili. I think of chili as a winter comfort food type meal. My husband on the other hand could and will eat chili all year long. I just can't enjoy a bowl of chili when it is August and 102 degrees outside. So, I decided to put it on this weeks menu to be sure I got it made at least one more time before it gets to hot outside.
I have several chili recipes. One is a crockpot version and another one takes about 2 hours on the stove to cook. The one I made on Monday is a quick and easy chili. I saw the original recipe in a Rachael Ray magazine. I have changed it around a little to make it more how we like it. So here is my version of the recipe.
Chili
1 pound ground beef
1/2 onion, chopped
1 clove garlic, minced
2 teaspoons chili powder (more or less depending on how spicy you like it)
1 teaspoon cumin
1 (15 ounce) can black beans, drained
1 (15 ounce) can pinto beans, drained
1 (14 1/2 ounce) can diced tomatoes 1 (8 ounce can) tomato sauce
salt and pepper to taste
shredded cheese (optional)
sour cream (optional)
Brown the ground beef with onion. Add garlic, chili powder, and cumin. Cook 3 -5 minutes more. Add beans, tomato sauce, and tomatoes. Cook over low heat for 15-20 minutes. Season with salt and pepper. Serve with cheese and sour cream.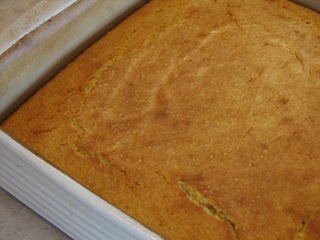 I also made cornbread. I also have several cornbread recipes I make. This is one of my favorites. It is Grandmother's Buttermilk Cornbread from Allrecipes.com.