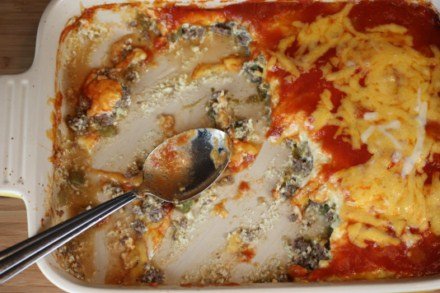 Chili Relleno Casserole is a favorite with my family as well as many of yours. It is quick and easy to make and everyone loves it.
Many of you have asked if this casserole freezes well. I thought it would, but since I had never tried it, I could not say for sure. A few weeks ago though I decided to give it a try as a freezer meal and I am so glad I did. In fact, I kept thinking why have I not tried this before now.
I decided to triple the recipe. We ate one for dinner and I put two in the freezer. Last week I had a crazy busy day, so I took one out of the freezer to use for dinner and it was delicious.
It worked great and I am so excited to have a new freezer friendly meal.
I made this and cooked it as normal and then just reheated it in the microwave. I think you could also easily reheat this in the oven as long as you watched the time and did not overcook it.
Be sure to let it defrost all way before reheating though. The center of mine was still a bit frozen when I put it in the microwave and I had to cook it for a bit longer because of it. I think this is a great one to take out of the freezer the night before, or morning of, to let it defrost in the refrigerator. The texture of it will be better reheated if it is completely defrosted.
And for freezing this I love to use my pryex pans. I love the kind that comes with lids. They make freezing casseroles so easy.
Have any of you tried freezing chili relleno casserole? What were your thoughts?