You might have guessed that I like talking about food, but what you may not know is that I love history. It was my favorite subject in school, and I have continued to love it as an adult. And what I really love is when food and history can come together.
Food and history can often be combined. I have been able to incorporate food and history together, many times in our homeschooling. People need to eat, that has not changed over the course of time, but often what we eat has changed. You can learn so much about a time period or culture just by studying the food.
An example of this is the Chinese New Year, which is January 23, and this year it is the Year of the Dragon. We don't usually celebrate the Chinese New Year, but I have learned over the years that holidays like the Chinese New Year can be turned into a great learning experience.
It is a great way to set aside some time to learn about a culture and what foods that culture eats. You can even focus on what foods are eaten during those holidays and try your own version of these foods at home.
Sitting down for a meal that contains foods from other cultures often brings questions from kids about what they are eating and why others eat it. You can make the entire meal a learning experience, and events like the Chinese New Year are a perfect time to incorporate these learning experiences.
Now I understand that making at home versions of food from other cultures can be challenging and time consuming, but you can keep it simple and use premade mixes and foods.
Use products like Sun-Bird that are quick and easy to put together, yet give you the same fun learning experience about other cultures and holidays. Sun-Bird has a great variety and you are sure to find something your family will enjoy.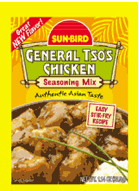 So take some time to introduce some new foods to your kids, and make it a learning experience while you are at it.
Disclaimer: I was compensated for my time in writing this post, but my thoughts and opinions are my own.