I mentioned last week how much my family loves football and food, and the combination of both make for a fun way to spend a Saturday evening.
We had a lot of fun watching OU play Missouri last Saturday night. And of course we had some good food to go along with it.
I love to grill hamburgers on OU game nights. And I enjoy coming up with new flavors and combinations of hamburgers to serve. A new recent favorite of ours is Chipotle Bacon Cheeseburger.
Bacon and cheese always go together well in a hamburger, and the chipotle pepper in this gives it a nice smokey flavor that pairs perfectly with the bacon.
I served this on Saturday with a green salad and Bush's Bold & Spicy Baked Beans. The Bold & Spicy Baked Beans flavored with cilantro, cumin, bacon, and brown sugar were perfect with the Chipotle Bacon Cheeseburger.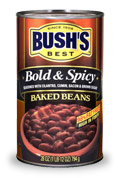 The spiciness of the beans went very well with the spiciness of the burger and the Bush's Baked Beans made this meal so quick and easy to put together.
Chipotle Bacon Cheeseburger
2 lbs ground beef
4 slices of bacon, cooked and chopped (use more if you want more bacon flavor)
1/4 cup barbecue sauce
1 chipotle pepper (one pepper not one can)
1/2 cup shredded cheese
In a food processor or blender mix together barbecue sauce and chipotle pepper. Puree until smooth.
Combine pureed sauce, bacon, cheese, and ground beef together and form into 6 burgers.
Grill over medium heat for 8-10 minutes or until done, flipping the cheeseburger once during cooking.
Serve with extra cheese and additional toppings of your choice.
Disclaimer: I was compensated for my time for this post by Bush's Baked Beans, but my thoughts and opinions are my own.