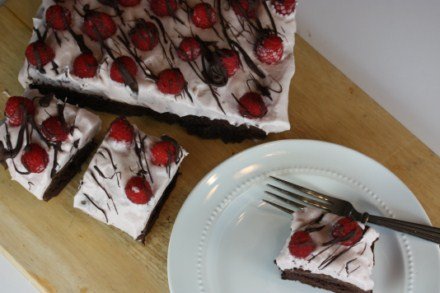 Remember a few months ago when I posted my creamy bacon and cream cheese potato salad as part of a virtual barbecue? Well, the bad news is that I did not win, but the good news is that I got invited to another one and this time I am bringing dessert. So, I have another chance to win $500 and a years supply of cooking creme and you can help me.
If you love my recipe please leave me a comment on this post, that is all you have to do to vote. I would love your help in winning and the voting only lasts 24 hours, so vote by leaving a comment if you can. I would really appreciate it. I mean who doesn't love a chocolate cream cheese raspberry brownie. 🙂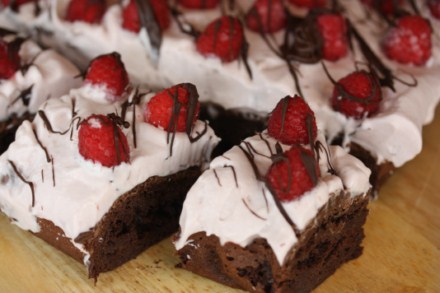 Doesn't that look good?! Really this is the perfect barbecue, picnic, or potluck dish. A dessert like this is a great way to finish off a fun meal. And anything with cream cheese in it has to be good.
Chocolate and raspberries just seem to go together. They make a great combination and are perfect for using fresh raspberries that are available this time of year.
These brownies are a little different because I used the Philadelphia Cooking Creme which gave the raspberry layer a nice light and creamy texture which we loved.
If you like chocolate and raspberries as much as I do, then this is a must make dessert.
And if you have time I would love to have you vote by leaving a comment. Thanks!! 
You can only vote once and voting only last 24 hrs.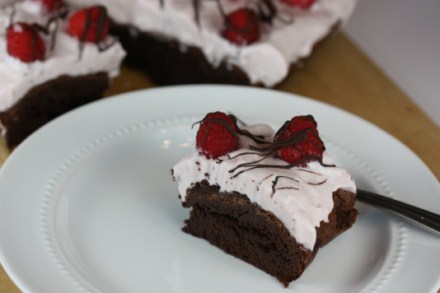 Chocolate Cream Cheese Raspberry Brownies
1 container Philadelphia Original Cooking Creme
1/3 cup raspberry jam
2 cups powdered sugar
1 cup whipping cream, whipped ( You could also use Cool Whip)
melted chocolate
1- 9×13 pan brownies, cooked according to directions (If you want to remove your brownies from the pan for serving like I did, then line the pan with parchment paper for baking.)
Fresh raspberries
In a mixing bowl combine cooking creme, jam, and powdered sugar. Mix until combined.
Fold in Whipped Cream and spread over cooked brownies.
Place raspberries on the top in rows or with whatever design you like.
Drizzle with melted chocolate.
Refrigerate for several hours or place in the freezer for several hours or overnight. Placing these in the freezer will help them firm up and give you nice looking pieces, but it is not necessary. Either way it is very good!
Cut into squares and enjoy!
And here are the other recipes for the virtual bbq:
Disclaimer: I was sent free cooking creme for my recipe, but I was not compensated for my time. As always my thoughts and opinions are my own.