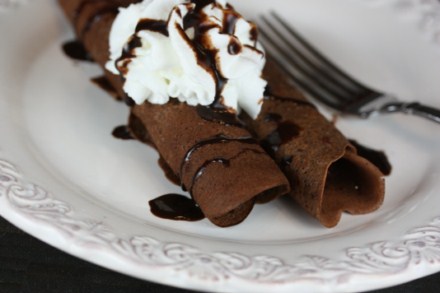 A couple of weeks ago I shared a recipe for a Chocolate Quinoa Cake that we love. And today I have another quinoa recipe with you that my family really enjoyed.
This recipe is adapted from the cookbook Quinoa 365: The Everyday Superfood
 and I am loving this cookbook. I have tried a few recipes out of it so far and they have been great. This cookbook is really helping me think outside of the box and experiment more when it comes to quinoa.
Now, I will say I was skeptical of this recipe when I first saw it, but my 12 year old daughter really wanted to give it a try. She thought chocolate crepes that we could all enjoyed sounded wonderful, so we gave them a try for dessert one night.
And they were a success.
We loved them and will definitely make them again. So simple and so good!
If you have never made crepes before, they are really not difficult at all, they just take a little practice.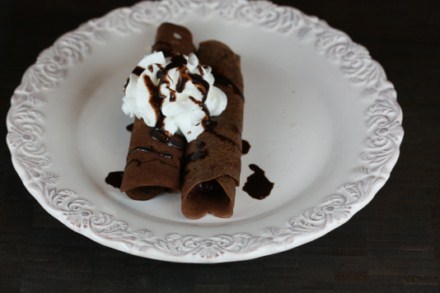 Chocolate Quinoa Crepes
1/3 cup quinoa flour
2 tablespoons unsweetened cocoa powder
1 tablespoon sugar
3 eggs
1 tablespoon butter, melted
1/3 cup milk
Jam and whipped cream for serving
In a blender  combine quinoa flour, cocoa, sugar, eggs, butter, and milk.
Blend until well combined.
Lightly grease a small frying pan or crepe pan. When the pan is hot pour about 3 tablespoons of batter into the pan and swirl around. Cook for about 30 seconds and carefully flip over and cook about 30 seconds more. ( The first few crepes you make may not be pretty, but keep at it and they will turn out.)
Serve with your favorite jam wrapped up inside and with whipping cream and your favorite chocolate sauce on top.
Enjoy!