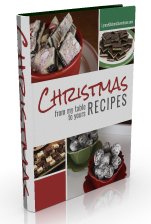 The first ebook I wrote was my Christmas Recipes ebook and it is has been one of my most popular ebooks. Many of you have enjoyed this ebook and the recipes in it.
Since this ebook has been so popular, I wanted to be sure to let you all know that my Christmas Recipes from My Table To Yours
ebook is FREE on Amazon today, December 12th through Saturday December 14th.
If you are looking for quick and easy Christmas recipes this ebook is for you. The recipes in this ebook are favorites of my family and I am sure they will become favorites of your family as well.
So be sure to get your free copy of Christmas Recipes from My Table To Yours
while you can. And feel free to pass this offer on to your family and friends. I love making Christmas baking and candy making easier for everyone.
Note: This ebook is an older ebook and not all the recipes are gluten free. Many are gluten free or are easy to adapt to gluten free by reading labels and using gluten free ingredients, but it is not a gluten free ebook.