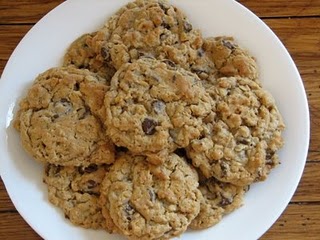 This cookie recipe comes from the cookbook "Baking From My Home To Yours" by Dorie Greenspan. My sister told me about this cookbook a few months ago. Since then I have checked it out of the library three times. I know it is a cookbook I like when I check it out multiple times. I love this cookbook. It is full of great recipes and pictures. There are a ton of recipes that I want to try. I have also found a website called "Tuesdays With Dorie" that is trying out recipes from the book each Tuesday. What I like about the posts are all the tips and changes people have for the recipes.
We loved this cookie recipe. I have made them twice now and have a bunch in the freezer. It was one of the things I froze to use for our company this week. It has great flavor and texture since it has oatmeal, peanut butter, and chocolate in it. I simplified the directions a little for you. I hope you enjoy it.
Chunky Peanut Butter and Oatmeal Chocolate Chipsters
3 cups old-fashioned oats
1 cup all-purpose flour
1 teaspoon baking soda
2 teaspoons cinnamon
1/4 teaspoon freshly grated nutmeg
1/4 teaspoon salt
2 sticks (8 ounces) unsalted butter, at room temperature
1 cup peanut butter- chunky or smooth, not natural
1 cup sugar
1 cup (packed) light brown sugar
2 large eggs
1 teaspoon pure vanilla extract
9 ounces bittersweet chocolate, chopped into chunks, or 1 1/2 cups chocolate chips or chunks ( I used chocolate chips)
Preheat to 350°F. Line 2 baking sheets with parchment paper or silicone mats. (I just used cookie sheets no paper or mats) Whisk together the oats, flour, baking soda, spices, and salt.
Working with a stand mixer, preferably fitted with a paddle attachment, or with a hand mixer in a large bowl, beat the butter, peanut butter, brown sugar, and sugar on medium speed until smooth and creamy. Add the eggs, one at a time, beating for one minute after each addition, then beat in the vanilla. Reduce the mixer speed to low and slowly add the dry ingredients, beating only until blended. Mix in the chips (and the raisins, if using). If you have the time, cover and chill the dough for about two hours, or for up to 1 day. (Chilling the dough will give you more evenly shaped cookies.
If the dough is not chilled, drop rounded tablespoonfuls two inches apart onto the baking sheets. If the dough is chilled, scoop up rounded tablespoons, roll the balls between your palms and place them 2″ apart on the baking sheets. Press the chilled balls gently with the heal of your hand until they are about 1/2″ thick.
Bake for 13-15 minutes. The cookies should be golden and just firm around the edges. Lift the cookies onto cooling racks with a wide metal spatula – they'll firm as they cool.
Repeat with the remaining cooling the baking sheets between batches.