These confetti Rice Krispies treats are a fun treat that kids will love.
According to the Rice Krispies Treats cookbook, Rice Krispies Treats have been around since the 1940's and were developed by Kellogg as a no-bake cookie candy called Marshmallow Squares. They featured the recipe on the side of a cereal box and the recipe was an almost instant hit.
The recipe was reprinted everywhere. So many versions have been developed over the years based on that original recipe. I think we all remember loving Rice Krispies and Rice Krispies Treats as a kid. And let's be honest even adults love them too.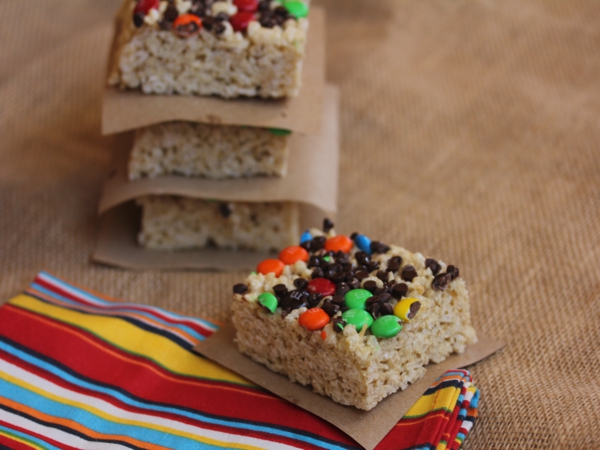 I am not sure where I got this Rice Krispies Treats cookbook, but it is a fun cookbook to have. It contains a lot of holiday ideas for Rice Krispies Treats, but it also includes some fun recipes like Peanut Butter and Jelly Crisps and Crunchy Ice Cream Sandwiches.
The recipe I am sharing today for Confetti Treats is more of a fun tip to change up your basic Rice Kripies Treat than it is a recipe.
I have lost count of how many different ways I have made Rice Krispies Treats over the years. I have made them in shapes. I have added chocolate to them. And I have even stirred different things into the mixture. But today's tip for making them might be my new favorite way to make them.
I love these because it would be so easy to change them up for different holidays but using different colors of M&M's. If you look at the picture above it looks like I just added the M&M's to the top of the treats. But if I had done that many of the M&M's would have fallen off.
The tip I learned from the book was to sprinkle the M&M's into the pan first. Then you press your Rice Kripies mixture into the pan and on top of the M&M's. When you do that it presses the M&M's into the mixture and holds them in.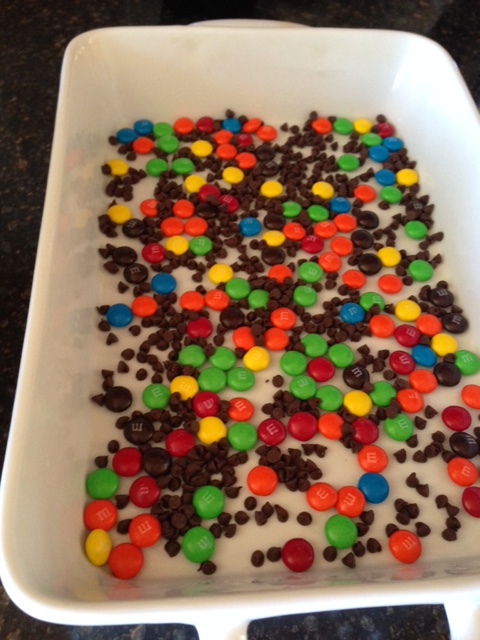 When you serve them all you have to do is cut them into squares and flip them over so the M&M's are on the top. The M&M's stay on and the treats look great.
Isn't that an easy tip? I am really wondering why I did not think of that before because really it is such an easy thing to do.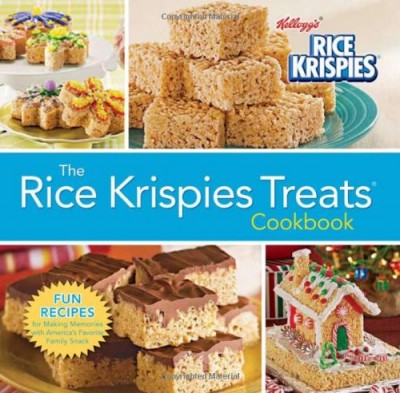 The book said to use mini M&M's, but I only had the regular ones, so that is what I used. However, I did have some mini chocolate chips so I added in a few of those too. You can never have too much chocolate right. Really I think this would work fine with just chocolate chips, with all M&M's, or like I did and a mixture of both. I can also think of lots of other candy that you could use to change up the flavors.
Next time you need a quick, easy, and fun dessert, you should give this a try. Kids will love them!
What is your favorite way to serve Rice Krispies Treats?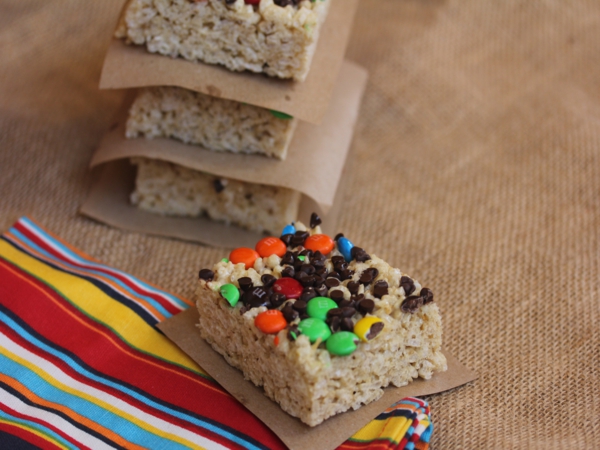 Yield: 15 servings
Confetti Rice Krispies Treats
Rice Krispy treats are an easy family favorite. Confetti rice Krispies Treats take them to the next level.
Ingredients
1/2 cup mini M&M's or M&M's
3 tablespoons butter
1- 10 ounce package marshmallows
6 cups Rice Krispies ( I used gluten free ones)
Instructions
Grease a 9x13 pan.
Sprinkle candy on the bottom of the pan.
In a large saucepan melt butter over low heat. Add marshmallows and stir until completely melted.
Remove from heat and stir in cereal.
Using a buttered spoon or spatula press mixture into pan and over candy pieces.
Cool completely.
Cut into squares and server candy side up.
Nutrition Information:
Yield:
15
Serving Size:
1
Amount Per Serving:
Calories:

173
Total Fat:

5g
Saturated Fat:

3g
Trans Fat:

0g
Unsaturated Fat:

1g
Cholesterol:

8mg
Sodium:

98mg
Carbohydrates:

32g
Fiber:

0g
Sugar:

18g
Protein:

2g