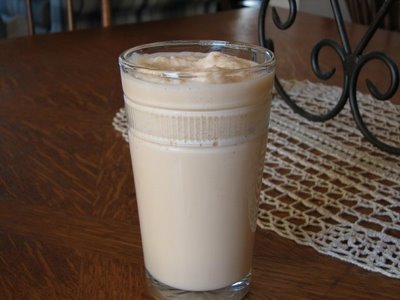 Several months ago I was talking to a friend about cooking and recipes. She was telling me that her sister had found copy cat Jamba Juice recipes online. I have never had a Jamba Juice smoothie, but I have had smoothies from other similar places a few times.
I make healthy or at least healthier smoothie most of the time. Lots of fruit and yogurt, etc. But you know what? They are not nearly as good as the ones you can buy at places like Jamba Juice. Yes, mine are healthier, but I want a smoothie I can have for a treat. I want something really good and I don't want to pay four to five dollars for it like you have to at restaurants. I want a really good smoothie I can make at home.
So, I found the idea of a copy cat smoothie very interesting. I searched online and found quite a few recipes. I kept seeing one for an Orange Dream Machine. I guess this is one of Jamba Juices most popular smoothies. It had sherbet and frozen yogurt in it. Plus some orange juice, but it was very simple. I knew from the ingredients that this would be more dessert like, than a breakfast smoothie. I do not serve this for breakfast, even though my kids would love me too.
I gave this recipe a try and we loved it. This smoothie is really good. Again more of a dessert, but a great dessert. Especially for a warm day. We loved it. I have never had a real Jamba Juice Orange Dream Machine, so I can't say if this is exactly the same. But I do know that this is really, really good.
Orange Dream Machine Smoothie Recipe
2 scoops frozen vanilla yogurt
2 scoops orange sherbet ice cream
1/2 cup milk
1/2 cup orange juice
1/2 cup ice
Combine all ingredients in blender and mix until smooth. Enjoy!!