Have you ever had trouble getting your kids to eat vegetables? If your kids are anything like mine, than I am sure you have. One of the things that I have found helpful in getting my kids to eat and enjoy vegetables is to let them help prepare them.
Kids are more likely to eat, what they help inspire and create. If they make it, they will usually eat it, or at least try it.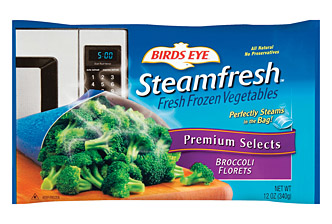 That is why I was excited when Birds Eye contacted me about trying a recipe using Birds Eye vegetables that was created by kids.
Birds Eye wants to inspire a new generation of vegetable lovers. And when kids work to come up with ideas and recipes using vegetables you know kids will love them.
So, bring your kids into the kitchen and let them be creative. You may have some hits and some misses, but involving your kids in the kitchen and healthy eating is something you will not regret.
Today I am sharing one of the recipes submitted through a partnership with Birds Eye and Nickelodeon. My daughter helped me make this recipe this week and my kids loved it. Yes, they actually did love it, broccoli and all. 🙂
We did chop the broccoli very fine and I left out the jalapeno. We kept this gluten free and just layered it in a glass bowl, but I love the tortilla idea. It would be a fun way to serve this as well.
Be sure to visit the Birds Eye website for more fun and creative ways to get your gets to eat their vegetables.
Now for the giveaway! Giveaway Over  Hope E is the winner. 

One reader will receive:

1- $50 American Express gift card, 5- Birds Eye coupons (full value), and a reusable insulated shopping bag 

All you have to do to enter is leave me a comment, but I would love to hear what your or your kids' favorite vegetable is, so feel free to share it. 

Giveaway will end Monday, November 12, 2012, at 6pm CST.

If you are reading this by RSS or Email you must click here and leave a comment on this post.

For more details please see my giveaway policy.
And for the recipe!
CORN JALAPENO DIP
1 package (12 oz.) Birds Eye® Steamfresh® Broccoli Cuts or Florets, cooked according to package directions ( I chopped it very small)
1 package (12 oz.) Birds Eye® Steamfresh® Southwest Corn, cooked according to package directions
1 (8 oz.) container sour cream, divided
1-1/4 cup shredded cheddar cheese, divided
1 tomato, diced ( I used their idea of salsa and it was great.)
1 cup prepared guacamole
1 jalapeno pepper, seeded and finely chopped (optional)
4 (6-inch) flour tortillas (optional)
In medium bowl, blend broccoli with 1/2 cup sour cream.
In 4 tortilla bowls or individual dip bowls, evenly layer southwest corn, 1 cup cheese, tomatoes, broccoli mixture, guacamole, remaining sour cream and jalapeno.
Sprinkle with remaining cheese. Serve with your favorite dippers.
 Tortilla Bowls (optional): Arrange 1 (6-inch) flour tortilla in a 2-cup microwave safe bowl, pressing down to make a bowl shape. Microwave on HIGH 60 seconds. Carefully remove from bowl and let stand on wire rack until cooled and hard. Repeat with 3 additional tortillas.
TIP: Try substituting 1 cup of your favorite prepared salsa in place of the diced tomatoes.
Note: I was compensated for my time, but as usual my thoughts and opinions are my own.