I found a variation of this avocado dip recipe in a crock pot cookbook. As soon as I saw this recipe I knew it would work great for an office lunch. I made this for the first time yesterday, so I sampled it before I delivered it, to make sure it was good enough to send to the office. Well, it was so good I saved out a small bowl of it for the kids and I to eat for lunch.
I did change this recipe a little from the original one. The original recipe called for flavored cream cheese and I thought it would work best with plain cream cheese. I changed a few other things from the original recipe, but the basics are the same.
This recipe has you warm this in the crockpot. I think it was really good that way and we liked it. But I also think you could skip the crockpot and serve this cold. The advantage to the crockpot is that it warms the cream cheese and makes it mix together really well. If you serve this cold you would need to be sure that your cream cheese was really soft and then mix everything together really well. Either way this is a really good and really easy avocado dip.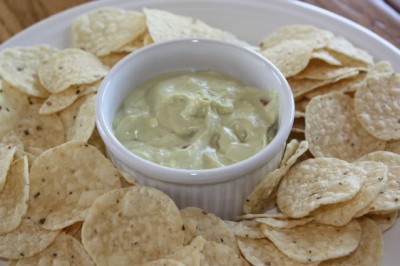 Creamy Avocado Lime Dip
2  8 ounce packages of cream cheese, softened
2  8 ounce packages of guacamole, you could also make your own, I bought mine to make it easier
3 tablespoons of fresh lime juice
Mix all together and place in a small crockpot. You don't have to worry about mixing this together really well. It will be easier to mix together once the cream cheese has warmed up and melted some. You are just warming this. It is not a recipe you can just place in the crockpot and leave. This took about 1 1/2 hours on low to warm up. Be sure to stir this several times while it is cooking. It is done when it is warmed through and the cream cheese has melted and you can stir it all together. Serve with tortilla or pita chips and enjoy!