Are you ready for Memorial Day and some great cookouts? Yes, I know Memorial Day weekend is about so much more than cookouts and barbecues, but for many this is the start of summer and family gatherings. And what better way to celebrate than with a barbecue.
Today we are celebrating with a virtual barbecue and I am bringing Creamy Bacon and Tomato Potato Salad. As part of this virtual Barbecue there is a contest involved and you can help choose the winner.
If you love my recipe please leave me a comment on this post, that is all you have to do to vote. I would love your help in winning and the voting only lasts 24 hours, so vote by leaving a comment if you can.
Now, I have mentioned many times before how much I love potatoes, so when I was asked to come up with a recipe using Philadelphia Cooking Creme I knew it had to be something using potatoes.
But I wanted to make something a little different than your normal potato salad, so I added in a little bacon, okay a lot of bacon, and some tomatoes. The combination of the cooking creme with the potatoes, bacon, and tomatoes was so good!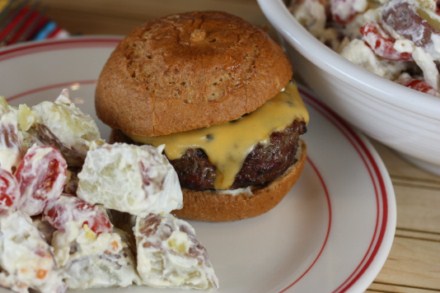 I might just have had thirds when I served this last week with grilled hamburgers. Yes, it was that good. Adding the Philadelphia Cooking Creme to potato salad is a fun and delicious way to change up potato salad.
Now as part of this virtual Barbecue there is a contest involved and you are helping choose the winner. If you love my recipe please leave me a comment on this post, but feel free to visit any of the other great bloggers and see what they are bringing to the virtual barbecue and vote for your favorite. Contest is over.
Come join the Virtual Summer BBQ, hosted by Balancing Beauty and Bedlam.
Enjoy browsing these great recipes.
Southwest Chicken Salad – My Home Sweet Home
Creamy BLT Pasta Salad with Pesto Sauce – 4Tunate
Shrimp Campanelle Salad – The Peaceful Mom
Creamy Jalapeno Ranch Dip – Savings with Shellie
Philly Creamy Deviled Eggs – Smockity Frocks
Lemon Berry Cheesecake Bars – Saving Dollars and Sense
Creamy Potato Salad – Mommy Hates Cooking
Creamy Italian Pasta Salad – Life in Grace
Creamy Bacon and Tomato Potato Salad
 5 lbs potatoes, peeled or cleaned if you are leaving the peel on, and cut into chunks ( I used red potatoes and left the skin on)
4 ounces of Philadelphia Savory Garlic Cooking Creme (This is 1/2 a package)
1 1/2 cups cherry tomatoes, cut in half
1/2 teaspoon salt
1/2 cup mayonnaise
1/2 cup sour cream
4 boiled eggs, peeled and sliced or cut into pieces
1/2 lb bacon, cooked and crumbled
Cook potatoes in boiling water until done. This takes about 15-18 minutes, but it will vary depending on the size of your potatoes.
After cooking, drain water from potatoes, and spread potatoes on a cookie sheet or baking pan. Place potatoes in the refrigerator to cool for several hours. You want the potatoes completely cold before adding the rest of the ingredients.
In a larger bowl mix together cold potatoes, bacon, eggs, and tomatoes.
In another bowl mix together savory garlic cooking creme, salt, mayonnaise, and sour cream.
Carefully stir dressing mixture into potato mixture.
You can serve this immediately, but I like to refrigerate it for several hours so that the flavors blend together well.
Enjoy!
Disclaimer: I was sent free Cooking Creme to use in developing my recipe, but I was not compensated for my time for participating and as always my thoughts and opinions are my own.