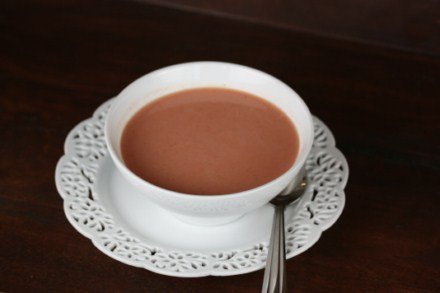 I know I recently confessed my dislike of soup during the summertime, but this Creamy Cold Tomato Soup is different. It is cold soup and cold soup is not really soup to me.
I know, I know, I am strange, but stay with me on this soup because it is really good.
Ironing is one of my least favorite jobs to do. I would rather clean a bathroom than iron and my ironing pile can vouch for this. So, I usually end up watching a cooking show while ironing. This is how I convince myself that I will not mind tackling the pile that is so often facing me.
So, I was recently watching an episode of Mad Hungry and saw a recipe for a cold buttermilk tomato soup. I instantly knew this was a soup my husband and girls would enjoy. They all love tomatoes and buttermilk, so I knew the combination would be one that they would enjoy.
In fact, my husband has been known to drink buttermilk by the glass full, but that is a subject for a different post.
I knew this was a soup that I needed to try. I recently had grilled tomato, bacon, and cheese sandwiches on the menu plan and I knew this soup would go well with them.
And it did. My family loved this soup. Now, I am not usually a fan of the taste of buttermilk. I love it for baking and for pancakes, but I do not like an overpowering buttermilk taste and I was a little worried that this would have that, but it didn't. The buttermilk complimented the tomato nicely.
I love the fact that this soup is so simple. It only contains a few ingredients and it goes together in no time. I will definitely be keeping this soup on hand in the refrigerator for quick and easy summertime lunches and dinners.
This soup is the same basic soup that I saw on tv, although you know me, I did tweak it a little.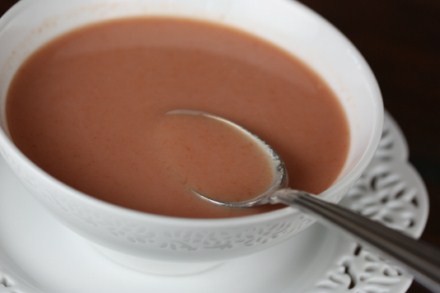 Creamy Cold Tomato Soup
4 cups tomato juice
2 cups buttermilk
2 tablespoons lemon juice
1/2 teaspoon worcestershire sauce
couple of dashes of Tabasco ( my husband added more to his as he ate it)
1/2 teaspoon salt or to taste
ground pepper to taste
Combine all ingredients together and refrigerate several hours before serving.
I like to keep this in a large jar in the fridge and take out as needed for lunches and dinner.