A few months ago I asked about the Crock-Pot Casserole Slow Cooker
for an Ask the Readers question. I was curious how they worked and if anyone had.
I love asking my readers questions like this because you all are always so helpful when it comes to what products you use and love. Several of you mentioned that you had one and loved it, so I was pretty sure that I would love it as well and I went ahead and bought one.
I have mentioned how much I am loving the casserole crock pot in other posts, but today I wanted to give you a more detailed full review because this would make a great gift for the holidays.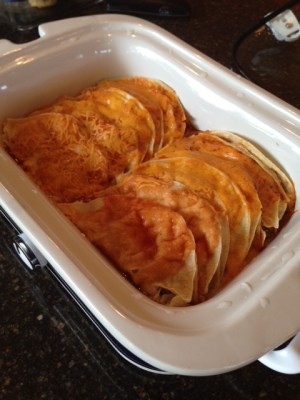 One of the things I love most about this crock pot is that it is basically a 9×13 pan. It is not a deep round or oval shape like most crock pots. It is really like a deep dish 9×13 pan. Which means that food looks better in it. Recipes look more like they would baked in a casserole dish in the oven. I love that about it.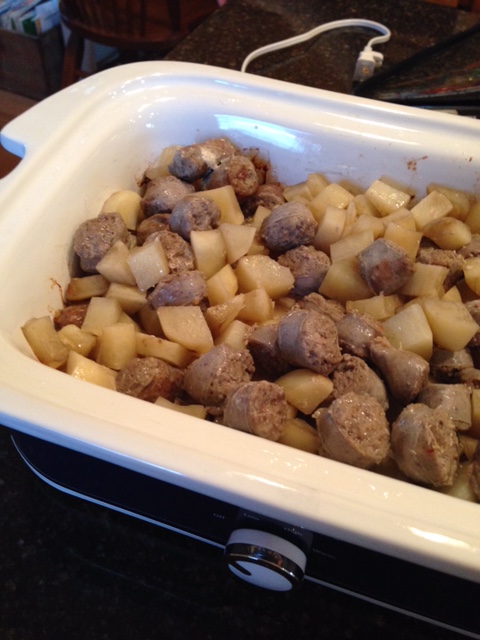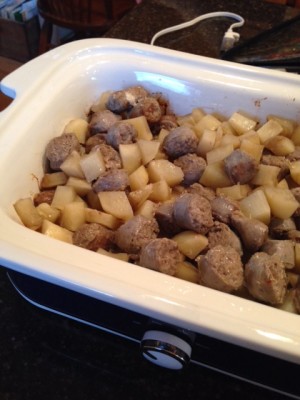 The other think that I love about this slow cooker is that it is not a put it in the crock pot and leave it all day kind of cooking. Yes, things take several hours, but so far nothing that I have cooked in it has needed 8-9 hours like many crock pot recipes do.
Some people may not like this, but I love it. I have a regular crock pot that I can use when I need to put something in it at 9 am and have it ready at dinner time. But I also like having the option of something only cooking for a couple of hours.
This crock pot is more of a put it in at 2 o'clock when you are headed out the door to pick up the kids from school, then head to soccer practice, then back home for dinner. Or just avoiding that often crazy busy dinner time rush. Start dinner at two or three and it will be ready at six.
It also works great for taking to potlucks and church dinners when you might just need something to stay warm or cook for only an hour or two. This also works great for those warmer summer months when you don't want to turn on your oven.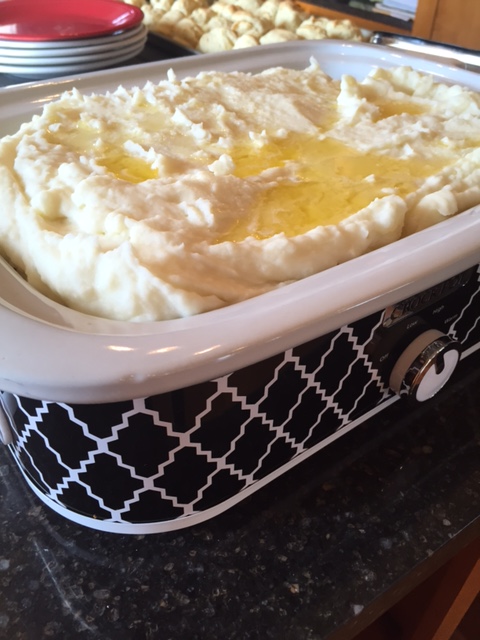 So far I have used mine for enchiladas and for a layered enchilada casserole which both only took about 2 hours on low to cook. I did my mexican pork chops on low for about 4 1/2 hours. I made beef and beans casserole on low for a couple of hours. I used it for mashed potatoes on Thanksgiving. Plus I have made a few other things in it over the last few months. They all worked great.
The mashed potatoes on Thanksgiving might just be my favorite thing I have cooked in them. It worked great. I made the mashed potatoes early in the day and put them in the Crock-Pot Casserole Crock Slow Cooker
about two hours before we ate. I started them out on low and then switched them to warm. It worked great and saved my so much time as I was putting together all the last minute dinner stuff.
I really think the casserole slow cooker will make holiday meals so much easier because of how easy it is to use for things like mashed potatoes. And it looks so much nicer than a regular crock pot.
Now, you may have noticed that my crock pot changed colors in the pictures. It went from blue to black and white. I did have an issue with the first casserole crock pot that I had. After I used it a few times I noticed that there was a funny spot in the bottom of it. Kind of a crack, but not really a crack.
I have had crock pots crack before and it is not fun when it happens, so I was not about to take any chances with this one. I called crock pot and they had me a new one within just a few days with no charge to me. This is the second time that I have had to deal with Crock Pot customer service in the last few years and both times they have been great. They did not have the same blue crock pot that I had in stock though and I did not really want to wait for it to come in stock, so they told me I could choose a different color. I choose the black and white one and I love it. In fact I love it better than the blue one I had originally.
I have used the new one several times now and have had no issues with it. I think the first one was just a defective liner and since crock pot made it right, I think this is a crock pot well worth having.
If you are looking for a Christmas gift or a new crock pot for yourself the Crock Pot Casserole Slow Cooker
is a great idea!
For those of you that have one of these are you still loving it?