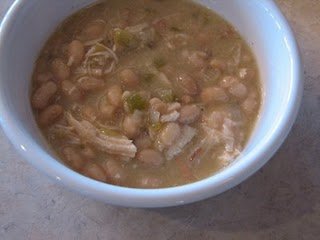 I have tried several White Chili recipes over the years. I have found several recipes that we like, but this one has become my favorite. I cut it out of a magazine several years ago. I do not remember what magazine it came from but it is a great recipe.
I like this recipe because it is a crock-pot recipe and it uses dried beans instead of canned beans. I am realizing how much better dried beans are. The texture and taste are just better than canned. You can change the seasoning around a little if you like it spicier. My husband likes it spicier but the kids and I like it just the way it is.
Slow Cooked White Chili with Chicken
1 pound of boneless, skinless chicken
1 cup dried beans, rinsed and sorted
1 medium onion, chopped
1 clove garlic, minced
2 teaspoons oregano
½ teaspoon salt
1 10 ¾ ounce can cream of chicken soup
5 cups of water
1 teaspoon cumin
¼ teaspoon hot pepper sauce
1 4.5 ounce can diced green chilies
Soak beans overnight.
Drain beans. Place in slow cooker with chicken, onion, garlic, oregano, salt, soup, and water. Cook on low for 8 hours, or until beans are done. Stir in cumin, hot pepper sauce, and chilies. Serve with sour cream and cheese.