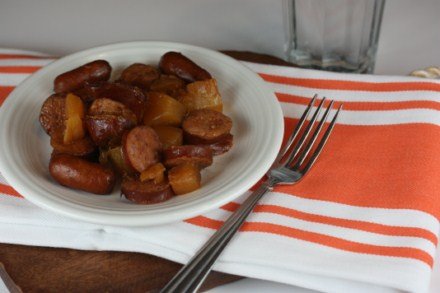 We interrupt  my Cooking Through My Collection Series for my crock pot sweet and sour sausages.
If you follow me on Facebook then you probably saw my update last week about the picture for this recipe. In case you missed it, here is what I said,
I changed things up and made a crock pot dinner tonight. It tasted really good, but it looks really ugly in photos. Now the question is share it or not share what I did?
Well, you all wanted me to share the recipe, so today I am sharing it. This is one of those really easy, crazy days, it is what I had in my fridge type recipes. So easy and so good.
This is not a fancy meal at all. It is pretty basic and honestly does not look the most appetizing, but it really tasted great.
You know what, sometimes good food is not that pretty. We seem to be focused on a Pinterest and magazine picture perfect world. The reality is that it is not reality.
I wish I had the time to make every meal picture and magazine perfect, but I don't. Life is busy, life is real, and real life dinners don't usually look like those from magazines or Pinterest Boards.
So today I am keeping it real and sharing this recipe with all of you. I hope you enjoy it!
We had this just on its own with potatoes on the side, but this would be really good over rice and that is how I will serve it next time. And if you have green peppers or onions you could easily add those to this as well. I was out of both or I would have added them in.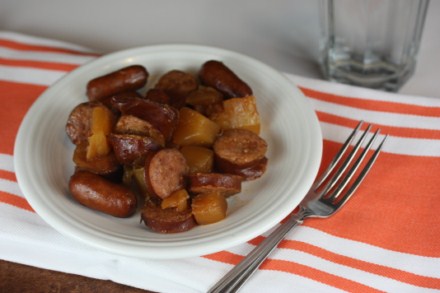 Crock Pot Sweet and Sour Sausages
 1 pound package miniature sausage links
1 pound fully cooked kielbasa or polish sausage cut into chunks
1 1/2 cups barbecue sauce- The sweet and sour part of this will vary depending on which sauce you use, some have more vinegar than others
1- 20 ounce can pineapple chunks, partially drained- I left about half the juice
Combine all ingredients together and place in a slow cooker. Cook on low for about 3 hours.
Note: I cooked mine for closer to 4 hours since I had to leave the house and it was a bit long. I think 3 hours is good.