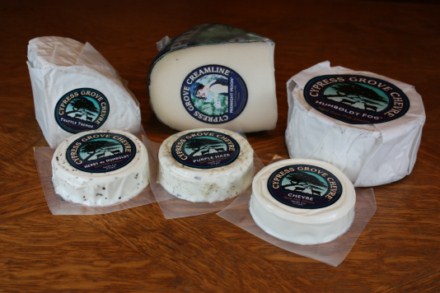 Giveaway closed
The winner is:
[email protected] I absolutely LOVE goat cheese – all kinds!
Several months ago I posted about goat cheese for one of my What Is It Wednesday posts. I was not very fond of the goat cheese that I tried and I made that clear in the post.
Well, shortly after posting about my dislike of goat cheese I was contacted by Cypress Grove Chevre . They wanted to convince me to give goat cheese another try.
I love cheese and I know there can be a big difference in brands and types of cheese, so I was willing to give goat cheese another try and I agreed to try their cheeses.
Cypress Grove Chevre sent me a package of six different varieties of their cheeses to try and I can honestly say they changed my mind about goat cheese. I now think that some goat cheese can be good and that it does make a difference on the variety, brand, and what you do with it.
My husband loved everyone of the Cypress Grove cheeses that we tried. He could have just eaten them plain all by themselves.
I took two of the varieties to my in-laws one night for dinner. We served it warm with crackers and everyone enjoyed it.
I will say though that my favorite way that we tried the different goat cheeses was not on their own, but in recipes.
Many of you commented on my last post about goat cheese that you like it on pizza, in salad, and with pasta. So, I decided to give it a try in a few things.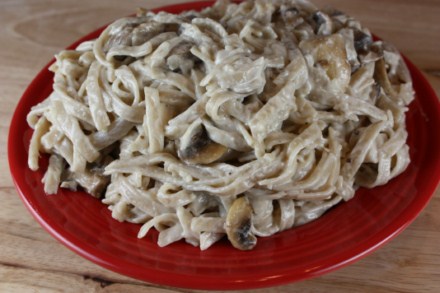 I tried it in two different pasta dishes and we loved them both. It was actually what we ended up eating for my husband's birthday dinner we enjoyed it so much. The pastas were so rich and creamy and really did not have a strong taste at all.
However, my favorite thing that we tried was the Midnight Moon variety of cheese on pizza. I was so surprised at how much I liked the goat cheese on pizza. It was really good and I will use it on pizza again.
I really enjoyed trying the Cypress Grove cheese and it helped me realize that all goat cheese is not the same.
Now, Cypress Grove not only sent me a package of their cheeses to try, they have offered to send one of my readers a package of cheese similar to what they sent me.
Giveaway will end Monday April 11, 2011 at 6 pm CST.
To Enter: Just leave me a comment
For bonus entries please leave separate comments for each:
For any questions please see my giveaway policy.
I was sent a sample of Cypress Grove Cheese to try, but my thoughts and opinions are my own.