This vegan sweetened condensed milk is easy to make and works great for those that eat vegan or dairy free.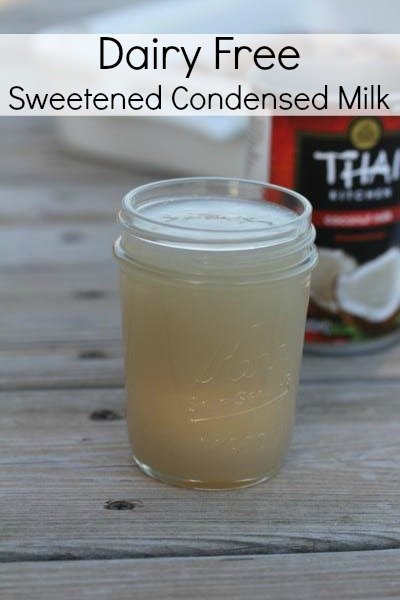 Dairy free sweetened condensed is perfect for making your favorite holiday treats dairy free!
We don't talk dairy free much here. I mentioned earlier this year that my daughter and I were giving dairy free a try. I went back on dairy. I have a lot of food issues, but dairy is not one of them. My daughter on the other hand has stayed 80-90% dairy free over the last year.
I know the 80-90% is odd, but it is reality. She is not 100% dairy free, but she is mainly dairy free. Butter does not bother her, so I use that in baking still. Buttermilk in pancakes or waffles doesn't seem to bother her. She will occasionally eat cheese or ice cream, but not very often.
Basically, she avoids dairy as much as she can, but she is not super strict. This works for us because she is 14 years old. She is not allergic to it, just sensitive to it. She knows how she feels. She knows the consequences of eating dairy. So I pretty much leave it up to her to decide what she wants to eat.
This recipe is also vegan so it works as vegan sweetened condensed milk for those that eat vegan.
Making Recipes Dairy Free
When it comes to cooking I try to use very little dairy in things. A lot of soups, chili, meats, etc. are dairy free naturally.
If I make a casserole or pizza I leave cheese off a section of it or set aside some in a different dish for her. Other times I make something special for her and other times she fixes herself something.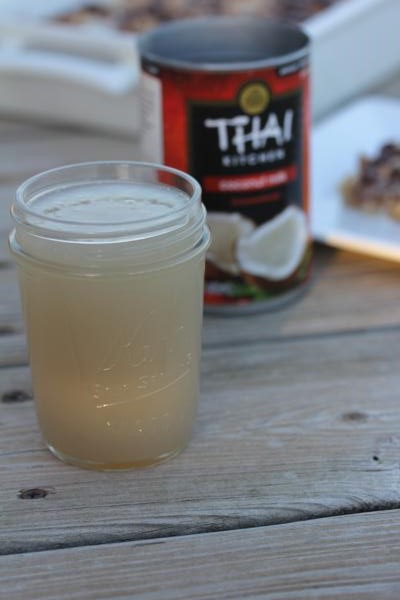 For the holidays though I knew that I wanted to come up with some dairy free desserts for her. It is the holidays and she wants to eat what everyone else is eating.
Making Sweetened Condensed Milk Dairy Free
High on my list to recreate was sweetened condensed milk. Sweetened condensed milk is in so many holiday recipes, including our favorite pumpkin pie.
So I set out to recreate sweetened condensed milk in a dairy free form.
I started with coconut milk. Full fat, unsweetened, canned coconut milk. The kind you get in the Asian aisle at the grocery store. I added some sugar and basically cooked it down until it was thick and sweet.
I was really not sure this would work, but it did. It thickened up as it cooked and then even more as it cooled. I could not believe how well this worked. Really this worked. It is a dairy free version of sweetened condensed milk.
Now, I will say that it is not 100% the same. The color is different. It is not quite as thick. And it is not as sweet.
The color doesn't really matter. The thickness doesn't matter for most recipes. If you have ever has low fat or fat free sweetened condensed milk you know the texture is not 100% the same either.
The taste is also not 100% the same. It really can't be because it is made from coconut. Coconut has a distinct flavor. In some recipes, this might be a problem, but for most things, I think the coconut flavor works. In many recipes, the chocolate, pumpkin, or other flavors will be strong enough to mask the coconut.
As far as the sweetness goes that is easy to fix. Add more sugar if you want. I like the fact that it is not quite as sweet as the original one, but if you miss that highly sweet taste of the real thing, add more sugar.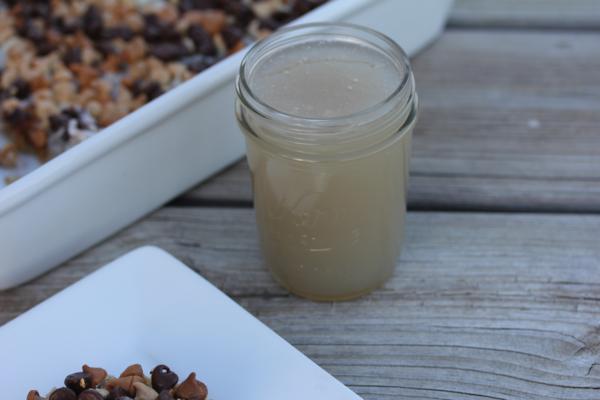 So far I have tried this in two recipes and both turned out great.
Remember those magic bars or seven layer bars that so many of use grew up eating? This worked great in those.
My daughter was thrilled that she could eat them again. I made that pan in the picture yesterday using this dairy free sweetened condensed milk and it is almost gone. My daughter and the rest of the family loved these. If you want truly dairy free magic bars be sure to use a butter substitute or coconut oil in the crust and dairy free chips.
The other recipe I tried was a pumpkin pie. It was so good. I was not sure it would set up as well with the homemade sweetened condensed milk, but it did. It worked and tasted great. Dairy-free pumpkin pie is now on the menu plan for Thanksgiving. And I will be sharing that recipe and what I did tomorrow. If you are dairy free you will want the recipe.
I also tried a version of this sweetened condensed milk with the low fat canned coconut milk. It didn't really work the same. It did not get as thick and the texture was not quite right. I may experiment some more with it, but I think this does need the full-fat coconut milk to get the closest to the real thing.
And I will also add that I have only tried this in a couple of recipes. It worked for what I tried it in. But I can't guarantee that this will work in every recipe that calls for sweetened condensed milk.
Those of you with food allergies probably already knew that, but I wanted to add that disclaimer.
Overall I am very impressed with it and can't wait to try it in fudge and other holiday treats. And of course, I will share the recipes as I make them.
If you are vegan and using this vegan sweetened condensed milk be sure to read labels on your ingredients to make sure they are the ingredients that you want.
Ingredients
unsweetened canned coconut milk
sugar
Yield: 12 servings
Vegan Sweetened Condensed Milk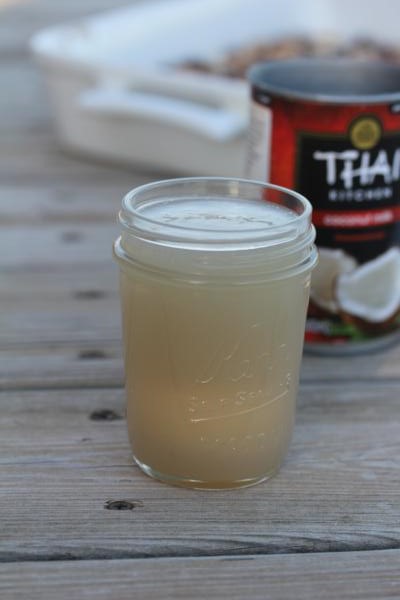 A rich and creamy dairy free alternative to sweetened condensed milk.
Ingredients
1- 13.6 ounce can unsweetened, full fat, coconut milk
3/4 cup sugar
Instructions
Place sugar and coconut milk in a small pan.
Whisk together.
Heat until almost boiling. Then reduce heat to a simmer.
Simmer, whisking occasionally until reduced down and thickened. This will take 25-30 minutes.
It will thicken more as it cools.
Cool completely before using in recipes.
Use in place of one can of sweetened condensed milk.
Nutrition Information:
Yield:
12
Serving Size:
1
Amount Per Serving:
Calories:

53
Total Fat:

1g
Saturated Fat:

0g
Trans Fat:

0g
Unsaturated Fat:

0g
Cholesterol:

0mg
Sodium:

0mg
Carbohydrates:

13g
Fiber:

0g
Sugar:

12g
Protein:

0g
Nutritional values are approximate and aren't always accurate.