We love pizza at our house. I am sure you have noticed that if you read my menu planning posts. It shows up often on the menu. Pizza is an easy and frugal meal that my whole family loves.
However, we get tired of the same old thing. I try to do different things to keep the pizza interesting. Sometimes we use pepperoni as a topping and sometimes sausage. I even make barbecue pizza using chicken or pork. We also like to make french bread pizza.
One of my favorite ways to change pizza up is to make it deep dish. It is really simple to do this and it is one of my husband's favorite ways to eat pizza.
Do you ever make deep dish pizza at home?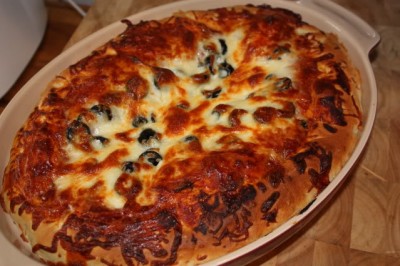 Deep Dish Pizza Crust
1 Tablespoon yeast
1 cup warm water (110-115 degrees)
1 teaspoon sugar
1 teaspoon salt
2 Tablespoons oil
1  cup whole wheat flour
1 1/2 cup all purpose flour
Dissolve yeast in water. Stir in sugar, oil, flour, and salt. Mix and knead well until dough forms. (I do this in my kitchen aid stand mixer). Let rest 15 minutes. With buttered or greased hands press into a greased  pan. I use either one 9×13 and one 8×8 or similar pans. Two 11x 7 pans would also work well, really any basic casserole type pan will work. Top with sauce and toppings of your choice. Bake at 425 for 20-25 minutes or until done. Time will depend a little on the size of your pan.