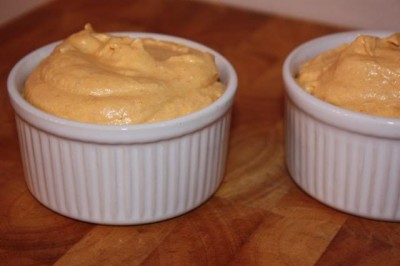 We love pumpkin desserts this time of year. There is something about fall that makes me want to make pumpkin desserts. Pumpkin desserts are just not the same in May.
However, I am getting tired of the same old ones I have been making for years. So I have been looking for new and interesting desserts that contain pumpkins.
I found several pumpkin recipes on the Taste Of Home Website. This one caught my attention because it was so easy and simple and I could easily make it gluten free.
This is not a fancy dessert, but it is really good. I liked this recipe because it is so easy that even my daughters could  make it and have it turn out well.
I also like this because it is a quick and frugal dessert for the holidays.
I made this gluten free and just served it in individual bowls, but you could easily put this into a graham cracker crust to make more of a pie out of it. I think that would also be really good.

Pumpkin Mousse
1 – 30 ounce can of pumpkin pie filling (not pumpkin you want the pie filling for this)
1- 8 ounce container of whipped cream cheese
1- 8 ounce container of cool whip ( you could also whip your own cream, but cool whip makes this easier)
In a bowl mix together pumpkin pie filling and cream cheese. Fold in cool whip. Place in individual bowls or in a graham cracker crust. Chill and serve.
For more frugal ideas and recipes see
Frugal Fridays
and
Grocery Cart Challenge
.