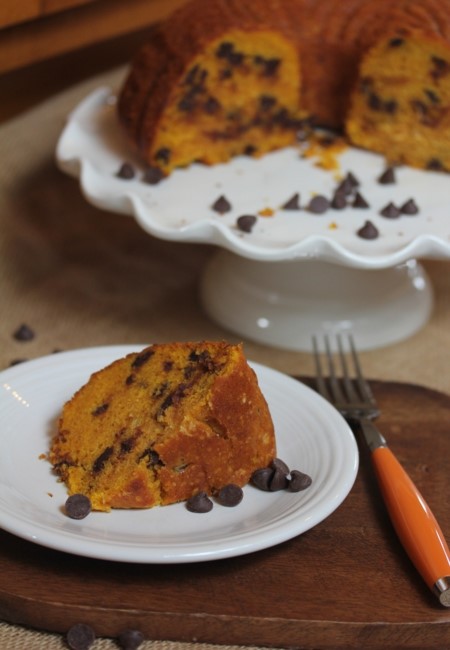 Today for my Cooking Through My Collection Series I am sharing a recipe that comes from a magazine not a cookbook. I love cooking magazines and have many of them that I have saved over the years. They are definitely part of my cooking cooking collection.
Some of the magazines I have are still in the whole magazine form, but since those take up a lot of space just to save a couple recipes that I might be interested in, I often tear out the page or pages I want. I then organize them in a notebook. I have been doing this for years and now have several 3 ring binders full of recipes that I have saved.
This easy pumpkin cake recipes is one I know came from Taste of Home magazine.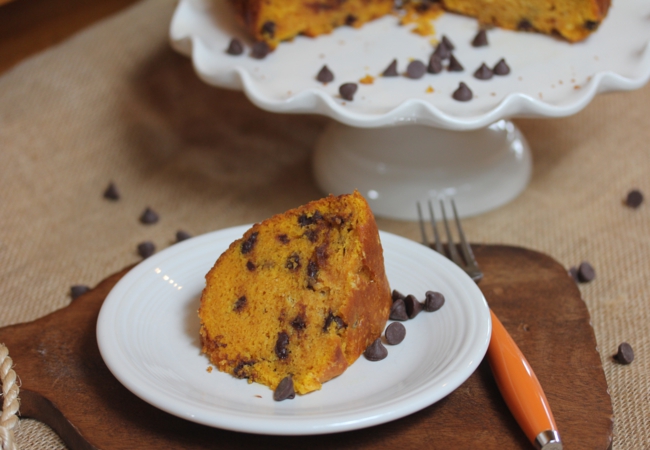 I received Taste of Home magazine for years and many of my favorite recipes come from them. That is why I knew I had to include this recipe for my Cooking Through My Collection Series. 
What I love about the old Taste of Home recipes is that most of them are quick and easy and contain everyday ingredients. And this cake is no exception.
This easy chocolate chip pumpkin bundt cake is great for fall. The original recipe had a simple powdered sugar glaze and no chocolate chips. To change it up a little I left the glaze off and stirred in some chocolate chips.
If you would prefer it without chocolate then just leave the chocolate chips out and it will still be delicious.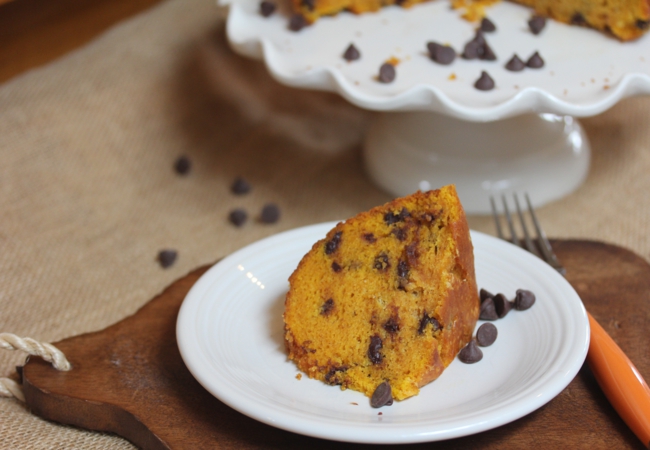 Easy Chocolate Chip Pumpkin Bundt Cake
Preheat oven to 350 degrees.
Grease a bundt pan well and set aside.
In a bowl cream together butter and sugars.
Add eggs, one at a time beating well after each addition.
Add pumpkin and beat until combined.
Slowly add bisquick until and mix until combined.
Stir in chocolate chips.
Pour batter into greased bundt pan.
Bake for 55-58 minutes or until toothpick inserted into the center comes out clean.
Cool in pan for 10 minutes then remove cake from pan and cool on wire rack.