The 4th of July is the perfect time for  grilling out and getting together with friends and family.
If you need a quick and easy recipe for the 4th of July this year I have a very simple, yet very delicious one for you today. And really this Easy Grilled Chicken works anytime, so you can enjoy it all summer long.
I love to serve this with Bush's Texas Ranchero Grillin' Beans.
The slight spiciness in the chicken pairs nicely with the mild chili sauce of the Texas Ranchero Grillin' Beans. A simple and delicious meal!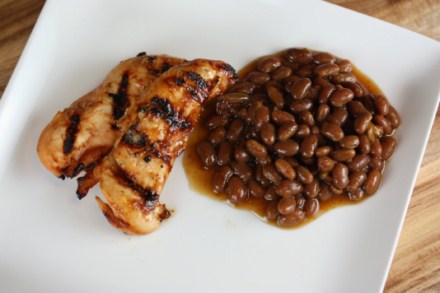 Easy Grilled Spicy Chicken
Serves 4
Prep Time: 5 minutes, plus marinading time
Cook Time: 10 minutes
 1 lb chicken tenders ( More if serving a large group.)
1/2 cup barbecue sauce
 2 tablespoons honey
 1 tablespoon dijon mustard
 1 tablespoon Louisiana style hot sauce
In a zip top type storage bag combine barbecue sauce, honey, mustard, and hot sauce. Add chicken and coat chicken well.
Let marinade in the refrigerator for 6-8 hours or overnight.
Grill chicken tenders over medium high heat about 4-5 minutes per side. Time may vary depending on thickness of chicken breasts.
Note: I have a continuing relationship with Bush's Grillin' Beans and am compensated for my time, but my thoughts and opinions are my own. I loved Bush's Beans and their products long before I worked with them.