I love easy desserts. I love them even more if they are really good. This one is both. It is so easy my 9 year old can make it and it is so good that we all enjoy it.
I found this dessert in an old cookbook that is out of print. It was so simple that I was not sure it would work and still be good. But it was, sometimes the simplest things are the best.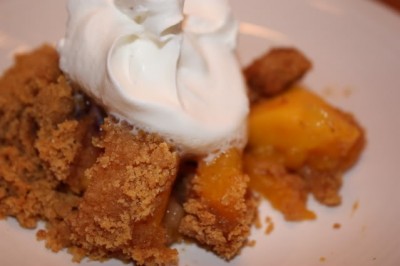 Easy Peach Dessert
2 cans of peaches, drained ( I have also used 1/2 fresh peaches)
1 cup graham cracker crumbs
1/4 cup butter, melted
whipped cream, optional
Place peaches in a 8×8 pan. Combine butter and graham cracker crumbs. Spread over peaches. Bake at 350 for 20-25 minutes. Serve warm with whipped cream and enjoy!

Easy desserts like this
work for me
.