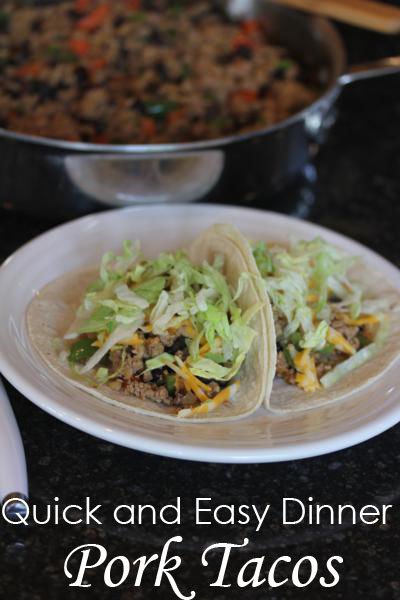 Pork tacos with black beans covered in cheese and salsa anyone?! Delicious!!
I recently changed up taco night and made them with ground pork instead of ground beef and we loved the flavor it gave the tacos. I have no clue why I have not thought of this before.
I love making simple changes to favorite meals that change it up just enough to make us feel like we are eating something different, but not enough to get any complaints.
Pork tacos will be on the menu often at our house. They are quick and easy to make and are a fun way to change up taco night.
Have you ever tried ground pork for your tacos?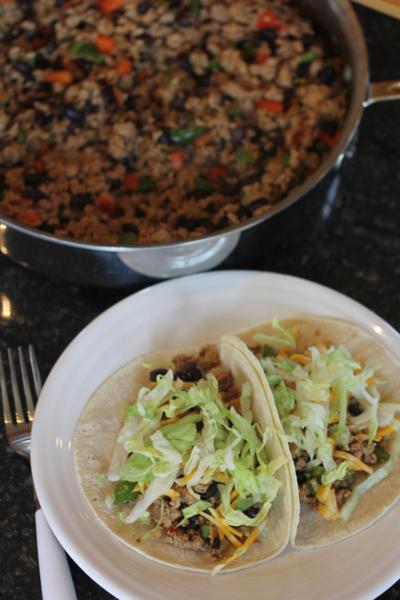 Easy Pork Tacos
2 pounds ground pork

2 cloves garlic, mined

1 can black beans, rinsed and drained

1 small onion, finely chopped

1 package taco seasoning ( Use gluten free or homemade taco seasoning) 

corn tortillas

shredded cheese, sour cream, salas, etc for serving
In a skillet cook pork and onion until pork is browned and onion is tender. If your pork is really lean you may need to add a little oil.

Add beans, garlic, and taco seasoning and cook until heated through and mixed well.

Serve on tortillas with cheese, sour cream, salsa, etc.