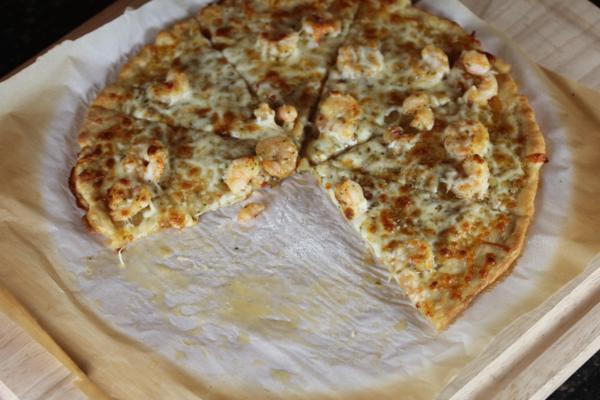 I love seafood and salmon, so when I was recently contacted by SeaPak about trying some of their products, and using them in a menu plan, it was easy to say yes.
One of the products that I was sent was the SeaPak Shrimp Scampi and I was challenged to come up with a recipe using it. I could have gone with a basic pasta or salad, but I wanted to change it up a little to make something different. I decided to go with a simple shrimp pizza.
I love shrimp pizza. I grew up in Oregon, not far from the coast. Shrimp pizza was pretty common and I always loved it. My family on the other hand, has not always been a fan of it.
The night I made this easy shrimp pizza though I shared this on Instagram. 
It has taken 20 years, but I think this Oregon raised girl has finally convinced my family how wonderful shrimp pizza is!
My family loved this pizza! Even my son, who doesn't usually like shrimp, loved this pizza.
I love just about any shrimp pizza, but this shrimp pizza was the first shrimp pizza my whole family loved. They finally agree with me that shrimp pizza is delicious!
Doesn't that pizza look good?!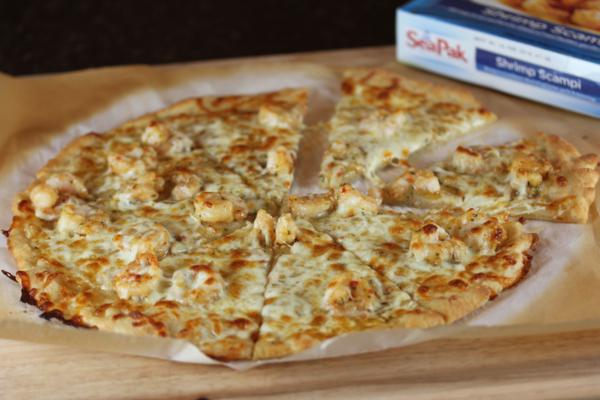 For this pizza I wanted to keep it simple, so that we could really taste the flavor of the shrimp scampi. I cooked the shrimp according to the package directions. I spread it on a pizza crust and added some shredded cheese and baked it. It was that easy.
The flavor was so good. And when I put the shrimp on the crust, I spooned some of the sauce all over the pizza crust and it made the crust so flavorful. The sauce soaked into the crust as it was cooking and gave it great flavor and a crispy crust. It reminded me of what you would get at a really nice pizza place near the coast.
I loved the fact that this pizza gave me a little taste of Oregon in Oklahoma.
And I will add that many of you know that several in my family eat gluten free, so for those of you that are gluten free, I felt that SeaPak's Shrimp Scampi and Salmon burgers were safe for my family because they do not contain any gluten products. However, they are not currently marked as gluten free, so please do your own research so that you know what is safe for your family.
Now for the recipe!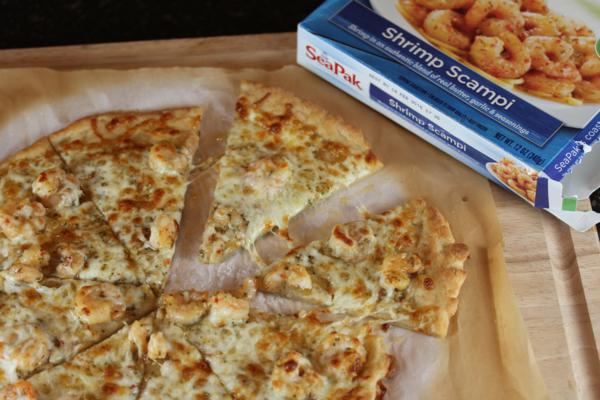 Easy Shrimp Pizza
Makes 1 pizza
Preheat oven to 425 degrees.
Cook shrimp according to package directions.
Press pizza dough onto a pizza pan or cookie sheet. (I like to line my pan with parchment paper to make clean up easy.)
Bake crust for 7-8 minutes.
Remove crust from oven and spread cooked shrimp on top of pizza. Make sure to spoon some of the sauce from the shrimp scampi over the crust as well. The sauce is what gives it such great flavor so don't waste it. I used most of the sauce on the pizza, but not all of it.
Sprinkle with shredded cheese.
Bake for 8-9 more minutes or until the cheese is lightly browned.
Disclaimer: This post is sponsored by SeaPak, but all thoughts and opinions are my own.