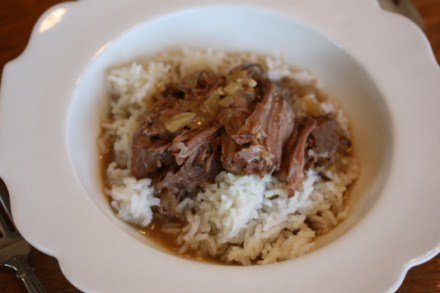 I think we all love easy slow cooked meals. It is so nice and convenient to put dinner in the crockpot early in the day and have it ready and waiting at 6:00.
One of my favorite slow cooked meals has always been roast. It is so easy to take an inexpensive roast and make it juicy and tender in the crockpot.
Roast is also one of the those things that you can often stretch for several meals. One easy meal can turn into two or three using the leftovers and that is always a good thing.
Easy Slow Cooked Roast
1- 3 to 4 lb chuck or other roast
¾ teaspoon salt
¼ teaspoon pepper
¼ teaspoon garlic powder
1 onion finely chopped
3 cloves garlic
1 can cream of mushroom soup or homemade version
¼ cup red wine
2 Tablespoons Worcestershire sauce
Place roast in a crockpot.
Add onions.
Combine remaining ingredients and add to crockpot.
Cook on low for 7-8 hours.
Server over rice or noodles.