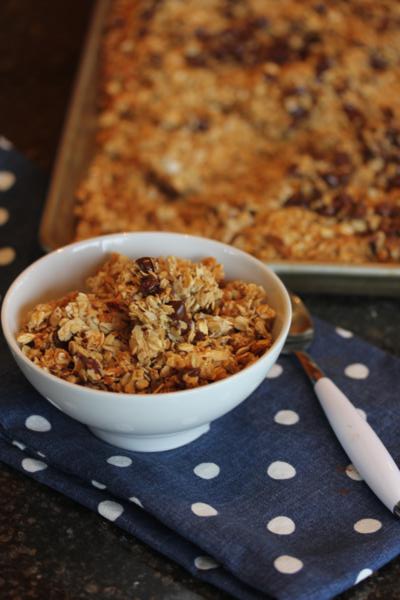 Chocolate Chip Coconut Granola {aka Mounds Bar Granola}
Prep time: 10 mins
Cook time: 3 hours
Total time: 3 hours 10 mins
The flavors of chocolate and coconut together in a simple breakfast treat.
⅓ cup brown sugar
⅓ cup oil or coconut oil, I like coconut oil for this
½ cup honey
2 teaspoons vanilla
½ teaspoon coconut extract, optional but really good for extra coconut flavor
3 cups old fashioned oats, I use gluten free oats
4 cups quick cooking oats, I use gluten free quick oats
2 cups coconut
1 cup chocolate chips
In a small sauce pan combine brown sugar, oil, and honey.
Bring to a boil stirring constantly. Once it comes to a boil remove from the heat and add vanilla and coconut extract.
In a large bowl combine oats, coconut, and sugar/oil mixture. Stir until everything is combined and oats are well coated.
Spread in 2 9x13 pans or onto cookie sheets.
Bake for 10 minutes at 350 degrees.
Remove from oven and stir in chocolate chips.
Return granola to oven, but turn off oven. Leave granola in oven for 3-4 hours. The heat left in the granola will finish cooking it.
Remove from oven and let cool. Store in an airtight container.
Recipe by
Lynn's Kitchen Adventures
at https://www.lynnskitchenadventures.com/chocolate-chip-coconut-granola-aka-mounds-bar-granola/