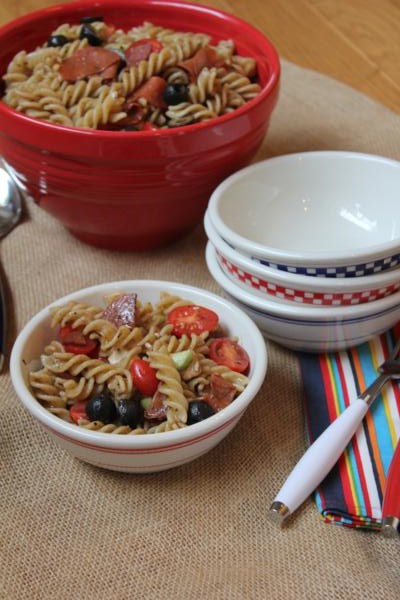 A simple pasta salad perfect for summer!
1- 16 ounce package pasta, I like to use fusilli or penne, cooked according to directions and drained
1 cup cherry tomatoes, halved
1 can - 6 ounce black olives, halved or sliced
6 ounces mozzarella cheese, cut into chunks ( I like to use fresh mozzarella)
5 ounces pepperoni, hard salami, or a mix of both, cut into pieces
1 cucumber peeled, seeded, and cut into chunks
Dressing
½ cup olive oil
¼ cup balsamic vinegar
¼ cup red wine vinegar
1½ teaspoon garlic powder
1½ teaspoon dried basil
1½ teaspoon dried oregano
½ teaspoon sugar
½ teaspoon salt
pepper to taste
In a bowl whisk together dressing ingredients. Set aside.
In large bowl combine cooked pasta, tomatoes, olives, pepperoni and cucumber. Stir in dressing until everything is well coated.
Stir in cheese just until combined.
Cover and refrigerate for at least 2 hours.