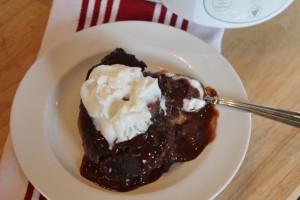 Crock Pot Raspberry Fudge Cake
Prep time: 10 mins
Cook time: 2 hours 30 mins
Total time: 2 hours 40 mins
The combination of chocolate and raspberries is delicious in this simple slow cooked dessert!
1 cup flour ( I have used Bob's Red Mill 1 to 1 gluten free flour and it works great)
½ cup sugar
2 tablespoons baking cocoa
2 teaspoons baking powder
½ teaspoon salt
½ cup milk
2 tablespoons oil
1 teaspoon vanilla
¾ cup brown sugar
¼ cup baking cocoa
1½ cups hot water
1 cup raspberries, fresh or frozen works
Mix flour, regular sugar, 2 tablespoons cocoa, baking powder, and salt in a bowl.
Add milk, oil, and vanilla and stir just until smooth.
Gently stir raspberries into batter.
Spread the batter into a greased 3 quart, or about that size, crock pot.
In a bowl mix together the brown sugar, ¼ cup cocoa, and the hot water and pour evenly over the cake batter.
Cook on high for 2- 2½ hours. Mine took about 2 hrs.
Turn off slow cooker and let sit about 15- 20 minutes before serving.
Serve with whipped cream or ice cream.
Recipe by
Lynn's Kitchen Adventures
at https://www.lynnskitchenadventures.com/crock-pot-raspberry-fudge-cake/