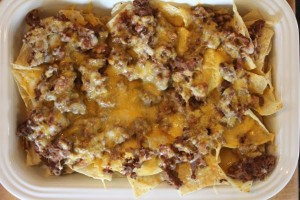 A quick and easy dinner or snack!
1 pound ground sausage
1 can refried beans
½ teaspoon chili powder
¼ teaspoon ground cumin
¼ teaspoon salt
12-18 ounces tortilla chips
3 cups shredded cheddar, colby jack, or pepper jack cheese
Preheat oven to 450 degrees.
In a skillet cook sausage until browned and no longer pink. Drain off any fat.
Add refried beans, chili powder, cumin, and salt to meat and stir to combine.
Spread half of the chips in a 9x13 pan.
Sprinkle with half of the meat mixture and half of the cheese.
Layer the remaining tortilla chips, remaining meat, and remaining cheese.
Bake for 8-10 minutes or until heated through and cheese is melted.
You can also spread this in one layer on a large sheet pan and reduce the baking time.