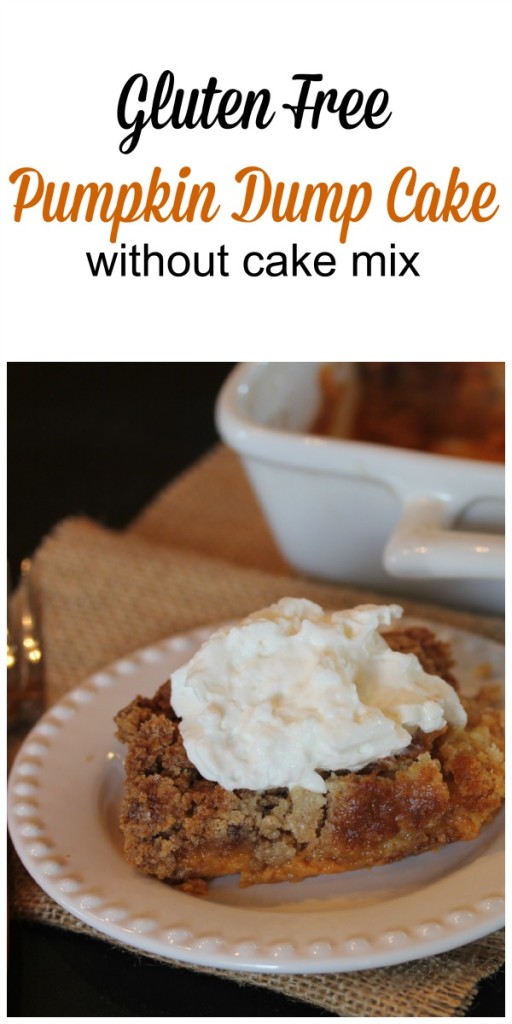 Gluten Free Pumpkin Dump Cake without Cake Mix
The classic pumpkin dump cake recipe made gluten free without using a cake mix.
1 - 15 ounce can pumpkin ( Not pumpkin pie filling, just canned pumpkin)
1- 12 ounce can evaporated milk
3 eggs
1 cup sugar
4 teaspoons pumpkin pie spice ( or use 2 teaspoons cinnamon in place of pumpkin pie spice)
½ cup rice flour
½ cup sweet rice flour
¼ cup cornstarch
¼ teaspoon xanthan gum
1 cup sugar
2 teaspoons baking powder
½ teaspoon baking soda
¼ teaspoon salt
¾ cup butter, melted
In a bowl whisk together the pumpkin, evaporated milk, eggs, 1 cup sugar, and pumpkin pie spice until well combined.
Spread into a 9x13 pan.
In a separate bowl combine rice flours, cornstarch, xanthan gum, 1 cup sugar, baking powder, baking soda, and salt.
Sprinkle flour mixture over pumpkin mixture.
Drizzle melted butter over flour mixture. Shake pan slightly to distribute butter a little better over flour mixture.
Bake at 350 degrees for 50-55 minutes.
Serve with whipped cream or ice cream if desired.
Recipe by
Lynn's Kitchen Adventures
at https://www.lynnskitchenadventures.com/gluten-free-pumpkin-dump-cake-without-cake-mix/