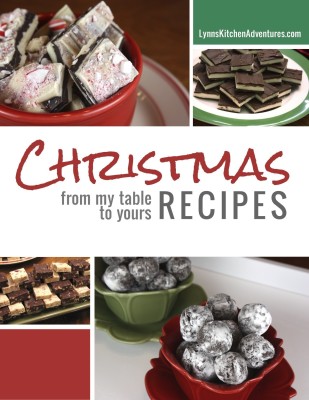 Food: The Best Gift of All
It's that special time of year for giving thanks, spending time with family and showing love through giving.
The recipes we enjoy are most likely traditions passed down from one generation to the next or they become NEW traditions as we settle on a new family favorite. Not only is food a tradition during this time of year, food can be the best GIFT!
Have a look at all these quick and easy ideas…
Cinnamon Rolls for Mom
Homemade Buttermilk Syrup for Grandma
Peanut Butter Cups for the Kiddos
Chex Carmel Mix and Spiced Nuts for Dad
Butter Rum Cake and Raspberry Truffles for the Neighbors
Spinach Artichoke Dip or Chocolate Peppermint Bark for the Office
My latest e-book CHRISTMAS RECIPES: from my table to yours offers quick, easy, and inexpensive holiday recipes from Blueberry Baked French Toast for a special family breakfast to Chocolate Bread Pudding for a scrumptious holiday dessert.
Don't stress this holiday season about what to do for parties, family gatherings and even gifts. Tis the season to show the love because FOOD IS THE BEST GIFT OF ALL!
Please click here for full details on getting your copy Christmas Recipes.