WHAT ARE TWO OF THE MOST IMPORTANT THINGS YOU CAN TEACH YOUR CHILDREN?
If you love to cook, it's fun most of the time. But when you've had a long day and you're tired, boy howdy, it becomes a CHORE! "Mom, what's for dinner? Mama, I'm hungry! Mommy, can I have something to eat? MOM? MAMA? MOMMY?"
As the room spins, you tell your kids "I can only go so fast! Stay out of the kitchen while I'm cooking. The stove is hot. You kids are in my way. Don't get under me."
Oh, yes you do. You remember your mom telling you those things, and admit it. You've said them too.
Well you don't have to tell your kids that anymore. Here's how…
Teach your kids to cook!
Teaching kids to cook will save them money as well as teach them to eat healthier. In a society of rushing around, teaching your kids to eat healthy while they are young will benefit them over their lifetime. Now isn't cooking for themselves and staying healthy two of the most important things we moms can teach our children?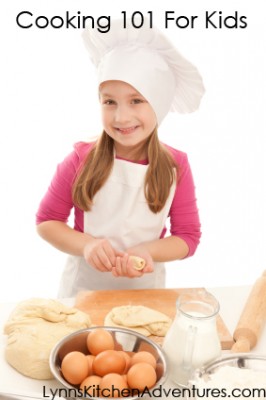 Teaching them how to cook is a great way to incorporate some good quality family time, most of us are lacking, into your day to day routine. Have fun with it, kill two birds with one stone and eventually have your kids cook for you!
You can do this with my latest ebook which costs only $4.99. This is less than one of those unhealthy fast food combos.
Teach them about…
Measurements
Tools and Common Ingredients
How to Follow a Recipe
How to Make Breakfast
Snacks, Appetizers and Side Dishes
Desserts and Treats
So when you have educated them on the art of cooking and contributed to their independence, prop your feet up and enjoy 'cause when Mama's happy everybody's happy!
Who knows, you just may be the catalyst for the next great Gordon Ramsey or Rachael Ray!
Download it now for only $4.99.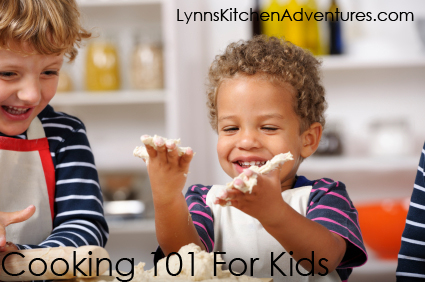 Testimonials
As a mom of six kids, aged 3 to 14, I'm quite familiar with having kids in the kitchen with me. However, as they hit the tweens and teens, I'm reminded of how important it is to equip them to be in the kitchen without me. Cooking 101 does a great job at equipping kids to become independent cooks — after adult supervision has ensured that they are competent. I love the color pictures that really make the tools and ingredients clear to children. Jessica, Life As Mom

In Cooking 101 For Kids, Lynn offers step-by-step advice for getting our children more involved and competent in the kitchen. Not only does she offer practical tips and user-friendly recipes, she gives excellent insight into the "why" of it all, outlining all the values of teaching our children how to feel confident and capable in the kitchen. As one guilty of relegating my children solely to the "helper" role, I look forward to implementing some of her suggestions to help them grow in their skills! JessieLeigh, Parenting Miracles
Buy Now
The Kindle version of Cooking 101 For Kids
is available through Amazon.com.