CONTEST OVER. I have emailed the winners. Thanks everyone for entering.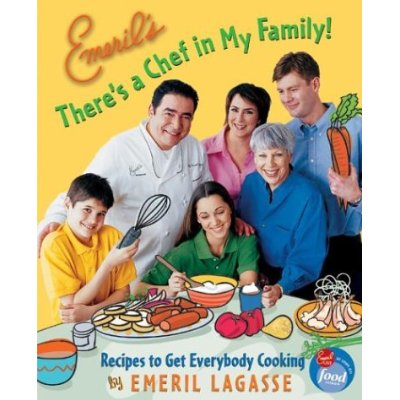 One of the first cooking shows that I remember watching regularly was Emeril's show on the Food Network. My sister lived with my husband and I for a few months back in the early years of food network and we loved watching Emeril's show together.
At the time Emeril was the star of the  Food Network. His food was a bit gourmet, and the recipes called for ingredients that did not fit into our tight budget at the time, but we loved watching him. We learned a lot about food and cooking, and he was quite entertaining to watch. I mean who else could make the word "BAM" become famous.
Over the years I have owned several of Emeril's Cookbooks, but in general they did not contain recipes that I would actually make. That  is until one of my sisters gave my kids Emeril's kids cookbooks There's a Chef in My Soup
and There's a Chef in My Family
one year for Christmas. These were two of Emeril's books that I loved. I instantly knew we were going to use these book a lot.
What I love about his Kid's Cookbooks are that they contain everyday food, that anyone can make and that everyone in the family will enjoy.
These cookbooks are not really just for kids. In fact some of the recipes are a bit advanced for young kids, but they do contain lots of kid friendly foods. Even adults will love the recipes in Emeril's kids cookbooks.
Because I love Emeril's Kids Cookbooks so much I am giving away three copies of Emeril's cookbook Emeril's There's a Chef in My Family
.
This giveaway will end on Monday January 3, 2011 at 6 pm.
To enter all you have to do is leave me a comment.
For bonus entries: (please leave a separate comment for each bonus entry)
If you are receiving this through an email update you must click through to my site and leave a comment on this post. Replying to this email will not get you entered.
For details about my giveaway policies click here.