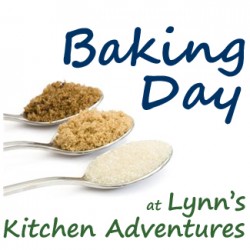 Today I am very excited to have my sister Evie guest posting. Evie is a great cook and she loves spending time in the kitchen. She does not have a blog, so I have convinced her to share several of her favorite recipes with my readers over the next few months.
The roll recipe that Evie is sharing today is one that she made for us one time when we were visiting her in Oregon (this was in my pre gluten free days) and they are wonderful. Thank you Evie for sharing your recipe.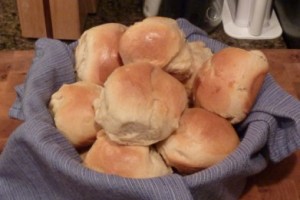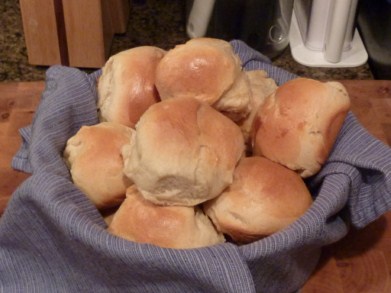 This year in the midst of planning Thanksgiving dinner for my family, I was looking for some new recipes to try.
One afternoon, my husband found me in our living room looking through cookbooks, magazines, and online. He was completely shocked to find out that I was looking for another roll recipe.
He asked, "What about my FAVORITE Thanksgiving rolls? Why can't you just make those?" After a little contemplation, I decided he just might be right. Why change recipes, when this one is so great?
Here's what I really like about this recipe. In these rolls, I think the butter, honey, and shortening trio makes them better than others I've made. Also, most of the other bread recipes use oil in the bowl when raising the dough and in the baking dish. However, this recipe uses butter in the bowl and baking dish. I like the added buttery flavor this adds to the rolls.
In my recipe search for other side dishes, I did come across a recipe for overnight refrigerator rolls that I'd like to try. For Thanksgiving, I might venture out and make them, I just won't tell my husband before he tastes them at dinner. 🙂
I hope you and your family enjoy our favorite dinner rolls as much as my husband does.

Dinner Rolls
3 TB unsalted butter
1/3 c. honey
4 TB vegetable shortening
1 ½ c. whole milk
5-5 ½ c. flour
1 TB yeast
2 tsp. salt
2 large eggs, divided
1 TB water
Approximately 2 TB butter, softened for buttering dishes
Butter a large glass or plastic bowl for raising the dough. Set aside.
In a microwave safe bowl, combine honey, shortening, and 3 TB butter. Microwave until butter and shortening are melted, about 1 minute. Stir in milk. Place back in microwave until warm, about 20 seconds.
In mixing bowl, combine 4 ½ c. flour, yeast, and salt.
Using a mixer and dough attachment, slowly add milk mixture to dry ingredients. Add 1 egg and mix until smooth. Add another ½ c. flour and mix for 6-7 minutes, until dough is shiny and smooth.
If dough is still sticky, add remaining ½ c. flour.
Form into a ball and place in buttered bowl.
Cover with plastic wrap and let rise until doubled, 50-60 min.
Butter two 9×13 baking dishes and set aside.
Punch down dough. Divide into 4 equal portions.
Roll each into a cylinder, cut each cylinder into 6 equal pieces. Roll into balls.
Place in a buttered baking dish, with rolls barely touching.
Cover and let rise until doubled, 50-60 min. Preheat oven to 375.
Combine remaining egg and water, whisk until combined. Brush rolls with egg/water mixture.
Bake for 25-27 minutes, until rolls are lightly browned.
Let stand in baking dish for 5-7 minutes before removing.
I also like to serve these rolls with whipped honey butter. If you have never made honey butter, it is extremely easy to make and delicious.
Whipped Honey Butter
In a mixing bowl combine ½ c. softened butter and ¼ c. honey. Using an electric mixer, mix 2-3 minutes, until light and fluffy.