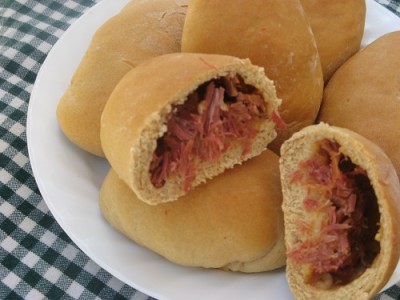 Homemade Hot Pockets anyone?– I used to do this all the time before going gluten free. They work great and kids love them. Really, you should give these a try. (Reading Amy's post has inspired me to work on a gluten free version using gluten free dough.)
I posted this tip for shredding meat on Facebook a few months ago, but I love this tip so much I wanted to share it here as well. If you make a lot shredded meat type meals, you will want to read Linda's tip. I have done this several times and it works great.
My friend Toni, from The Happy Housewife, is doing a 100 days of Christmas. Everyday she is posting ideas for homemade Christmas gifts. If you are looking for inexpensive and fun Christmas gifts, she has some great ideas.
I love menu planning and have posted about it often. If you are looking for some menu planning pages or ways to organize your menu planning, you will want to check out Money Saving Mom's Free Menu Planning pages. She has quite a few options and versions to choose from and they all look great.
I love apple pie and this apple pie baked in a bag sounds very interesting. I had never heard of it before, but I might have to give it a try sometime. And while you are there check out the other great recipes by King Arthur Flour.
I shared this link on Facebook recently, but I thought it was worth sharing here also. This is a stain removal chart I printed off several years ago from Martha Stewart. It has hung on the inside of a cupboard door in my laundry room for years and I have referred to it many times. My copy is well worn and falling apart, so I recently printed it off again and I am going to laminate it this time so that it will last longer. If you are looking for tips for stain removal, it is a great source to refer to.
What great finds have you found around the web recently?