I often share what I love when it comes to food and kitchen related items, but today I wanted to share a few of my favorite things that have nothing to do with food or kitchen life. I thought you might enjoy a look at what products I use and love outside of kitchen life. And these would all make great gift ideas.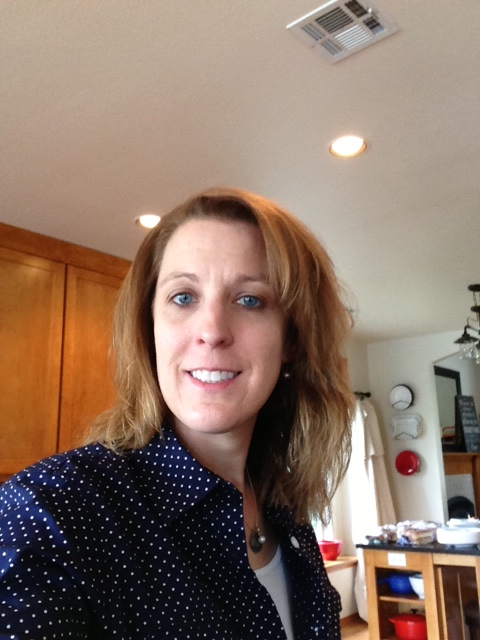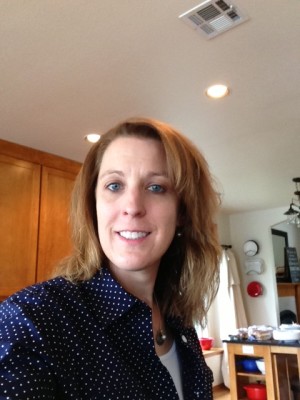 1. I love The Vintage Pearl jewelry. My first purchase from The Vintage Pearl was their basic pearl drop earrings. Those earrings are now my favorite earrings and I wear them several times a week. My husband has also bought me several necklaces from my birthday and Christmas from Vintage Pearl and I wear then all the time. I am wearing both Vintage Pearl earrings and necklace in the picture above. We have also given my oldest daughter a Vintage Pearl necklace as a birthday gift and she wears it all the time. Really you can't go wrong with Vintage Pearl jewelry.
And that is not the best picture of me, but it was the only one I could find with me wearing Vintage Pearl. I avoid the camera if it is at all possible. I am usually the one behind the camera, not in front of it.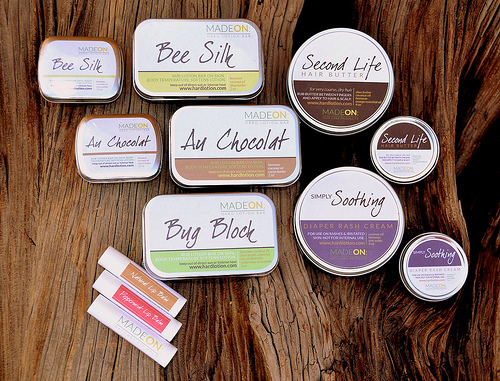 2. Last year I posted about how much my family loved MadeOn Lotion. We still love the Made On products, so I knew I had to mention it in my favorite things post. My husband is in the medical field and washes his hands many times a day. MadeOn Bee Silk Bar is his favorite lotion to use. He keeps one in his desk at work, one in his truck, and one at home. He loves this lotion because it works so well, but also because it does not have a strong perfume smell. These would make a great gift or for filling stockings.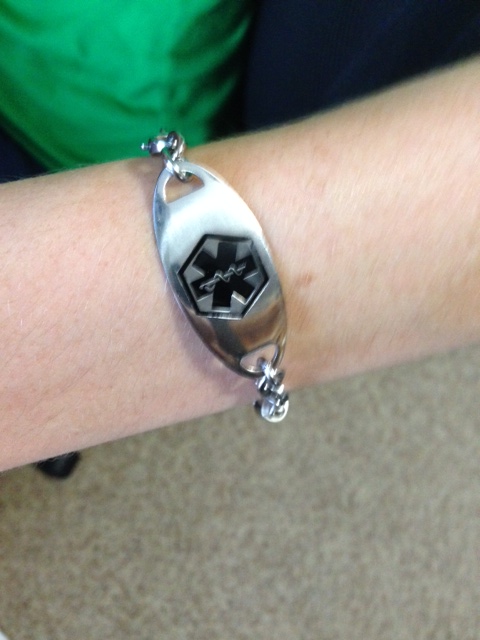 3. I posted recently on Facebook about my daughters new allergy alert bracelet and so many of you commented about it, that I knew it was perfect to include in my favorite things. My daughter has a severe peanut, tree nut, and sesame allergy. Last year I bought her an allergy alert bracelet to wear. She has hit that age that she is not always with me, in fact she is often not with me, and I knew I wanted others around her to know about her allergy. I did some researching on allergy alert bracelets and decided to order one through Lauren's Hope. She has worn that bracelet everyday for over a year.
This year for her birthday I told her she could pick out another bracelet so that she could have one with a little different look and she loves her new bracelet just as much as her last one. I love the fact that Lauren's Hope makes stylish, yet nice allergy alert jewelry. We prefer the ones that are stylish, but still look like an allergy alert bracelet and they have many to choose from. If you know of someone with a life threatening allergy or medical condition I highly recommend Lauren's Hope. They even offer gift certificates which would make a great holiday gift.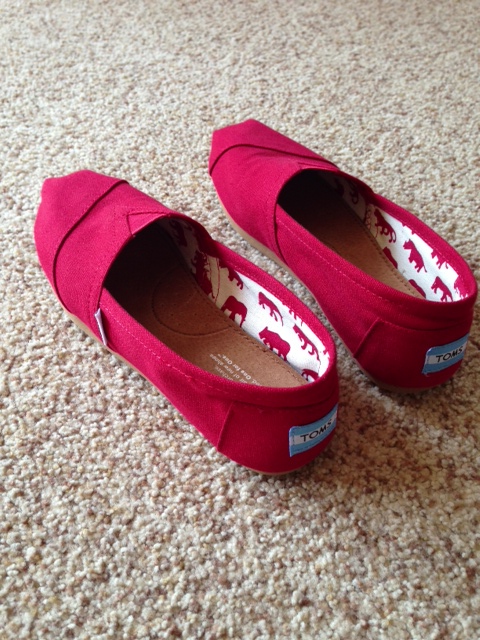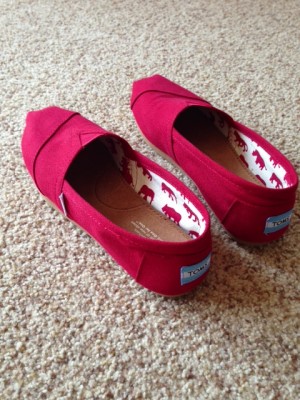 4. And now shoes. I love my Toms shoes. I bought my first pair two summers ago when I was visiting Oregon and I have bought several pairs since then. I wear these shoes all the time. I have a pair I use for just wearing around the house. They even have a lot of fun colors and patterns. I tend to stick to the pretty basic ones, well except for my red pair that I love, but for those of you that love fun colors and designs I am sure you will find something that you love. Now, I will say that these shoes are pretty flat, so they may not work for someone with a high arch. I don't have a high arch, so they work great for me.
5. If you know someone that enjoys running a Garmin Forerunner
would make a great gift. When I started running I had a really hard time pacing myself. I tried various apps on my iphone, but none of them were as accurate as I wanted or worked quite like I wanted them to. So, I tried the Garmin Forerunner
and loved it. It helped me pace myself and my running greatly improved. My husband liked my watch so much that I bought him one for his birthday and it also helped him improve because he was able to better track his running. This is a little bit of an expensive gift, but great for any runner.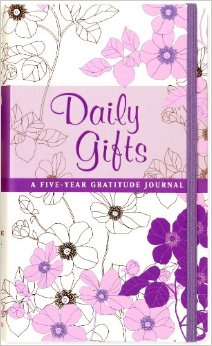 6. I mentioned a few weeks ago that I have had some struggles this year. One of the things that has really helped me is a gratitude journal. Writing down what I am thankful for has really helped me focus on what I have. I am using the Daily Gifts: A Five Year Gratitude Journal and I love it. In fact I am planning on getting my girls each one because I want them to learn to focus on what they have and not what they don't. And while I am on the subject of gratitude, one of the best books I have read recently is Choosing Gratitude: Your Journey to Joy
if you are struggle with discouragement and lack of joy, I found this book to be a big encouragement and help.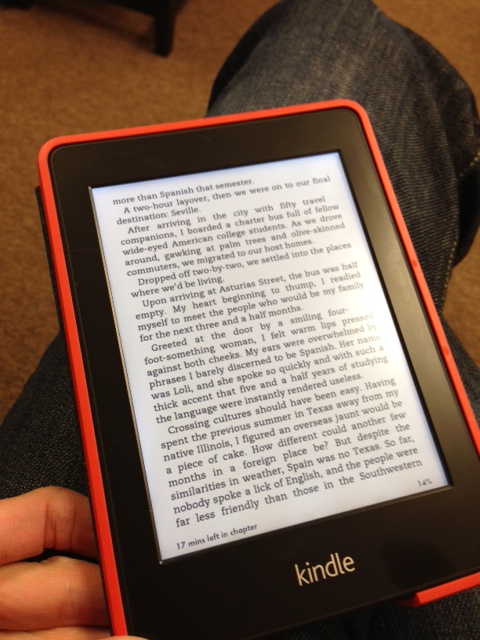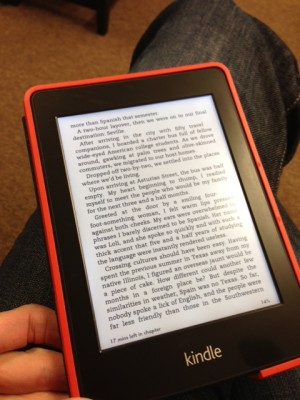 7. And I can't mention reading without mentioning my Kindle Paperwhite
. I love and use my Kindle all the time. It is small enough to keep in my purse to pull out at doctor appointments or other times that I have a few minutes of sitting with nothing to do. The amount of reading I do has gone up greatly since getting a Kindle
. If you enjoy reading, but struggle with finding the time to read, you should consider a Kindle to keep with you. Now that I have gotten used to having it, I can't imagine doing without mine.
8. And the book I was reading on my Kindle when the picture was taken was Running for My Life: One Lost Boy's Journey from the Killing Fields of Sudan to the Olympic Games
. I read this book and then had both my girls read it. My husband also read it and I recommended it to my sister when she visited me recently. I have also bought a copy for a Christmas gift. This was one of the best books I read this last year. It was so good.
It is one of those books that makes you really think about the fact that there is so much that goes on beyond our small and pretty comfortable life. It is hard to complain about my life when I read a book like this. It is one of those books that really puts life in perspective. We have no idea how good we have it in America. This is a book that really makes you appreciate what you have, because what we have is so much more than a good portion of the world. This book is also a reminder of what makes America great and how coming here can change someones life. If you love to read, or know someone that does, I highly recommend this book. It really is one of the best books I read this year.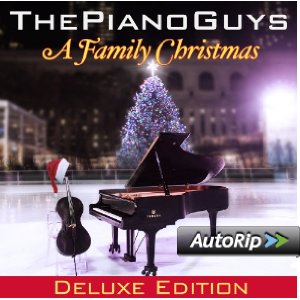 9. My sister introduced my family recently to The Piano Guys and my kids love them. All three of my kids play the piano and they have so much fun watching videos of the Piano Guys. We also recently bought some of The Piano Guys
music and it is now a favorite at our house. This is fun music and would make a great gift or stocking idea.
10. I recently mentioned on Facebook that I love the fact that Old Navy sells tall pajamas, lounge wear, and sweat pants. Now, for some of you it may be hard to understand why tall pajama pants made my favorite things list, but sometimes it really is the small things that make someone happy.
I am five foot ten inches and have a really long inseam, like 35 inches. Finding women's pants with that long of an inseam is hard. I have had many high water pants, both in regular style and sweats and pajamas over the years, and it has always bothered me. I mean really it is not the best look. And although no one really sees me in pajamas, it still bothers me to have them too short.
So, when I recently discovered that Old Navy sells quite a few of their pajama and sweat pants in tall sizes, I was quite happy. And so was my daughter who is now five foot nine inches. Old Navy recently had a sale with a coupon code and I ordered both of us some and we love them! Sometimes it really is the little things that count. If you know someone that is tall these would be a really nice gift. And even if they are not tall, they will probably enjoy Old Navy pajama and lounge type pants. I think they are a great deal for what you get.
Now I would love to hear some of your favorite things to give this year as gifts to your family and friends. Do you have any favorites?
Note: This post is not a sponsored post. It does contain affiliate links to Amazon and MadeOn lotion, but besides that these companies have no clue who I am and did not pay me to promote them. I am simply sharing a few of my favorite things.