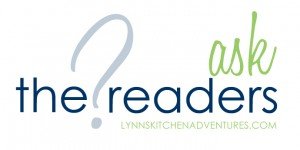 I had planned on posting a new recipe for my Cooking Through My Collection series today, but it did not get done. Summer has been busy for me and I feel like I am so behind on everything. Laundry, email, housework, paperwork, gardening, etc. You get the idea. Summer has not been much of a slow down for us this year.
Anyone else having a summer like that?
If you follow me on Instagram you might have seen this picture on Saturday.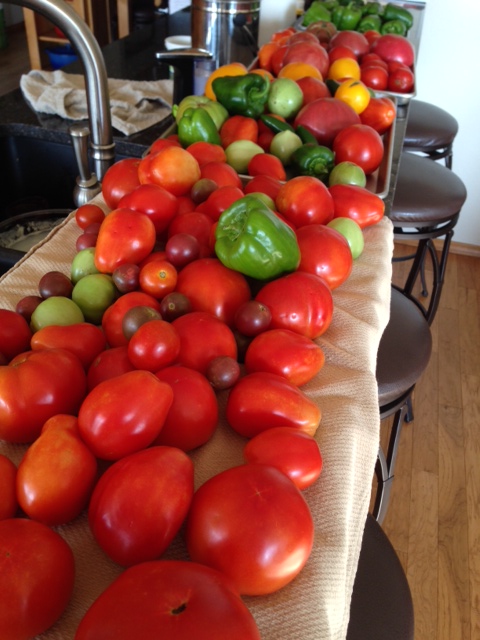 Yes, that is what my kitchen counter looked like. Let's just say we are having a good garden year for tomatoes and peppers. If only the rest of the garden was doing this well.
Let me first say I know this is a good problem to have. My family in Oregon wishes they could grow tomatoes like this. Oklahoma may not be the best place for growing strawberries, raspberries, and cherries, but we can grow some delicious tomatoes and peppers.
So instead of working on online and website stuff this weekend, I spent it in the kitchen working with tomatoes and peppers. And instead of catching up on housework, I made more messes taking care of all the stuff coming from our garden.
Again I know this is a good problem to have. Too much food is a blessing and something to be thankful for. I will take this problem any day.
So here is what my Saturday looked like.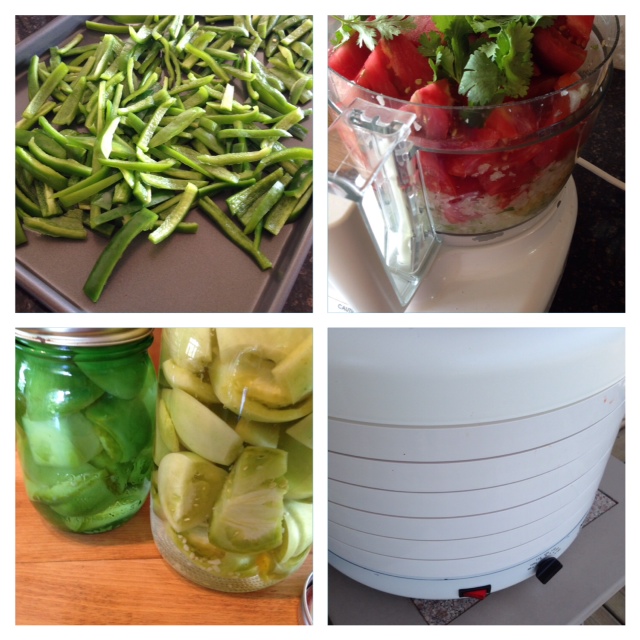 I froze some of the peppers. I made fresh salsa that we have been enjoying. I made roasted tomatoes and pasta Saturday night for dinner. And I have lots of tomato dishes on the menu plan this week.
We had a few tomato plants damaged in a storm last week. I did not want the green tomatoes to go to waste, so I decided to make some pickled green tomatoes. We have not tasted them yet, but if they work, I will be sure to post what I did. Has anyone else ever made pickled green tomatoes?
I have also been drying tomatoes. This is the first year I have dried tomatoes, so I am still a little unsure how we like them or how much we will use them, but it has been an easy way to deal with so many tomatoes. So far they work well for sandwiches and pizza. I would love to hear your thoughts on drying tomatoes if you have tried it.
If we keep getting this many tomatoes, I will probably can a few or make salsa to can. I will admit though that canning is not my favorite thing to do. I know how to do it and I have all the stuff to do it, but it is not something I really enjoy doing. But I don't want food to go to waste, so canning tomatoes may end up in the plan this summer.
I also pickled some more peppers this weekend. Pickling peppers is my new favorite way to use up peppers. I made some a couple weeks ago and they were not hot enough. The ones I made last week are much better and hotter according to my husband. So I think I finally got the pickled peppers right. I will be sharing what I did for those later this week.
Now for the Ask the Readers question.
Since I have so many tomatoes and peppers right now I would love some new ideas and recipes to try. Do you have a favorite way to serve or use garden fresh tomatoes and peppers?